Hezekiah, my sponsored child from Tanzania, has two brothers. Last month, I began to worry about how his parents are able to manage their large family. I thought it would be wonderful if I could sponsor another one of his siblings, so I checked his file to see if they are enrolled in our program.
They're not.
Although I am disappointed, I know the reason his siblings are not enrolled. Sponsors call the contact center to ask this same question, and I explain why —  although in this situation, I must explain to myself why.
Our goal is to assist as many children and families as possible. In order to do this, we allow three children per family to be enrolled in our program.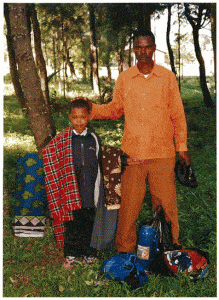 However, the child development center staff is able to change that allowance to one or two children — based on the community's needs. Particularly in Africa, one child registered per family tends to be the limit.
When the needs of the community limit the registration to one child per family, the other family members still benefit indirectly.
For the parents, one child registered is one less child that they have to worry about financially. They also have the opportunity to attend different educational events hosted by the child development center.
The siblings get to attend events that are planned for the entire family and they learn indirectly from their registered sibling. Also, the entire family benefits when the registered child's sponsor sends a family gift.
I sent a gift to Hezekiah's family last fall. Although I am not able to sponsor one of his siblings, the picture I received shows that his family is also involved and benefiting from our program.