The Vida Abundante Child Survival Program graduation in the Dominican Republic started with a parade. Among those watching were elderly people and housewives, as well as motorcycle-taxi drivers awaiting a few rush hour passengers.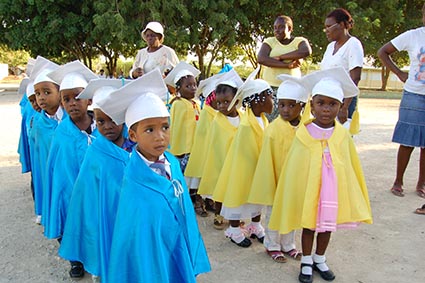 The 19 graduating children walked with their mothers to the child development center and after a time of prayer, several children were invited to sing short Christian songs before the audience.
As the children were called forth, one-by-one they rose from their chairs, and their mothers joined them at the front of the room to receive a certificate and have photographs taken.
At the end of the ceremony, they all shared cake and and something to drink, which the children especially enjoyed.
Minerva, mother of graduating 3-year-old Reimi, was so filled with excitement to see her son in a graduation ceremony, she was able to imagine him 20 years into the future,
"Wow, an engineer!" she said to herself. "My son looks like an engineer!"
Celebrating the children's first three years in the program is a great victory for the local church. Our staff diligently worked with every mother, especially when the children were malnourished or ill.
On graduation day, families celebrated not only their completion of the program, but also the end of the most vulnerable time in their children's lives.
Help Families Affected BY COVID-19
Families in poverty have no safety net in times of crisis. Help provide food, medical care and support during this pandemic.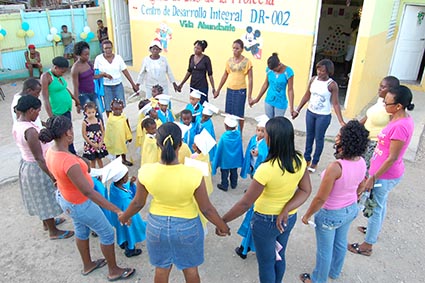 They expressed their excitement by dressing their children in their best clothing for the event. Some of them even made their best effort to buy new clothing for their children.
Villa Aleman, Dominican Republic is a tough place for children to grow up. Unemployment is high and many fathers are motorcycle-taxi drivers. Others must commute and work in other towns.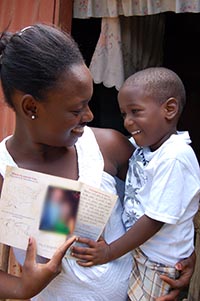 The church is ready to continue to help these children grow spiritually, socio-emotionally, cognitively and physically as they move into the Child Sponsorship Program.
Reimi and his 18 fellow graduating peers have begun a new phase of development with our ministry and the local church.
And he was so fortunate that, on the same day of the Child Survival Program graduation, he received his first letter. The sponsors wrote,
"We are also excited to share our love for God with you. Thank you, Reimi, for allowing us to be your friend."
After reading the sponsors' letter Minerva shares,
"I see that Reimi now has another father and another mother. He has new friends, and they are already my friends too.

I believe that this is something very beautiful, and I give thanks to them for wanting to share God's love with Reimi."
---