Paper scraps, bits of string, crumbs and stray Cheerios — as a stay-at-home mom who homeschools two active girls, I spend a fair amount of time sweeping up random stuff that happens to fall to the floor.
On one particular day, I found myself making yet another trip to the broom closet. I will admit, I was frustrated. Certainly, I was lacking cheerfulness and grace.
With an exasperated sigh, I grabbed the broom and went to work corralling another pile of debris that had accumulated beneath our dining-room table.
Later that same day, we received a letter from Precious in Ghana, our first sponsored child. I tore into the envelope and eagerly pulled out the letter.
With the help of her center coordinator, Precious sent greetings in the name of Jesus Christ and told us she was doing very well in school and at home. She shared that she had recently been promoted to Kindergarten 2 and that her school had re-opened for another term.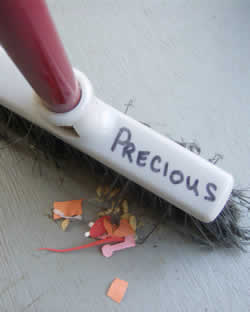 The next sentence jolted me to my very core.
Precious wrote that she had been sweeping and, when she sweeps, it brings her joy and happiness.
Help Families Affected BY COVID-19
Families in poverty have no safety net in times of crisis. Help provide food, medical care and support during this pandemic.
Those words went straight to my heart. Tears instantly came to my eyes. One sentence from a little girl an ocean away immediately and forever changed my perspective.
In our first letter from Precious, we had learned that she lives with her family in a one-room home made of clay.
Yet, despite her living conditions and the fact that her floor is made of dirt, she not only finds joy in sweeping — but she also took the time to share that fact with me.
I don't doubt for a minute that the timing of the delivery of her message was divine intervention.
After reading the rest of her letter, I went straight to the broom closet with a permanent marker in hand. Along the top of the head of the broom, I wrote Precious.
I wanted to be reminded of her every time I swept.
Ever since, anytime I pick up the broom, I cannot help but smile and think of our sweet girl in Ghana.
Whether I am sweeping for the first or 15th time that day, I no longer feel frustrated or annoyed. Instead, I take that time to thank God for putting Precious in our lives and I pray for all aspects of her life.
I am eternally grateful for the change in attitude that I received from that one simple sentence. Thanks to Precious, now I, too, find joy and happiness in sweeping.
As you have gotten to know your sponsored children, have they changed your perspective on anything?