This past July, I had the honor of traveling to Guatemala to meet the little girl I sponsor there. Bilha was an impossibly adorable 6-year-old with braided pigtails, an infectious smile, and the most beautiful eyes I have ever seen.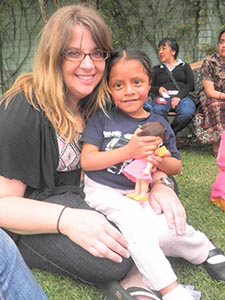 From the moment I met Bilha, her mother and grandmother, they felt like part of my family. So much so that when I left, the four of us stood in a tight little knot and sobbed.
I had just met my "family" and it was painful to leave so quickly!
That afternoon, at the end of a sweaty soccer game and lots of popcorn and soda, I sat with Bilha and her family on the grass and gave them gifts.
In a duffle bag there were sheets, towels and cooking utensils for the family.
And into a small purple backpack I had stuffed crayons, construction paper, toothbrushes, soap, clothes, bubbles and a Dora the Explorer doll that Bilha held tightly for the rest of the afternoon.
There is something about giving a gift to a child who rarely receives gifts. Most families in developing countries don't have the extra funds to buy gifts like bubbles and Dora dolls.
Parents must spend their hard-earned money on food and clothes instead.
When I handed Bilha and her family these small gifts on that afternoon, it was as though I had bought them an entire store. They cried over each item I pulled out, even over some wooden spoons I got from the dollar bin at Target.
And I cried along with them. It was an honor to be able to bring them these few gifts — and I knew that this would probably be the only time I could lug a duffel bag through Guatemala to present to this precious family.
I was thinking of Bilha and her family while I worked on helping put together this year's Compassion Christmas Gift Catalog.
On each page there were gifts that I knew would bring the same kind of joy to other families this ministry serves. I can send Bilha and her family gifts as her sponsor, but there were dozens of other gifts I can give to children I will never meet.
I can only imagine their reactions.
Will the family who receives livestock smile as they tug on the ropes tied to their goats and cows?
Will the mother whose malnourished child is provided with food cry tears of joy?
Will the injured child who receives surgery whisper a thank you as her body is healed?
Will the father who can finally provide safe water for his family bend his head in gratefulness?
Based on my sweet Bilha and her family, I know the gratitude will overflow. I won't see it, but the Father will. And He will rejoice in their praise.