Tulancingo is located in a semidesert valley in central México. The view is beautiful and green with big cactus trees standing on the horizon.
The area of Tulancingo holds great history from the ancient Toltec and Otomi cultures. Although the inhabitants are mostly dedicated to farming and agriculture, a few other industries are also in the community. Their major products are dairy, meat, maize, barley and vegetables.
Tulancingo is the community where Proyecto Hormiga has worked with the support of Compassion México for more than 10 years now. They serve nearly 170 children from the community and have raised many children in their classrooms.
Most of the children here come from families with single moms or with parents who work either on the farm, as masons or in the nearby fields. The salaries are too small and the money earned to support the families is not enough.
The Compassion program has been a real blessing in the lives of these children; for most of them it means the opportunity to study beyond elementary school.
In the last year the student center graduated 15 teenagers in two different ceremonies where all families, children and staff recognized the success of these youngsters who have been considered "the pride of the program."
We interviewed and visited some of them in their new activities. Most are studying for a high school education with a vocational orientation to graduate with a technician degree in the different areas of study they have chosen. Some others are in high school or even at the state university.
Help Families Affected BY COVID-19
Families in poverty have no safety net in times of crisis. Help provide food, medical care and support during this pandemic.
These youngsters prove the Compassion development model through sponsorship and the church works here!
---
Zeydi is one of the most outstanding graduates from the program. She is 18 years old and got into the technological institute from Pachuca, the capital city of the state of Hidalgo. The school she chose is one of the best in the state. Many students apply there but only a fraction get selected.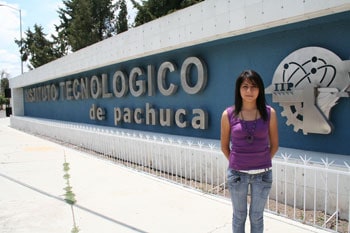 Zeydi is studying civil engineering. She has already faced challenges with her teachers and professors who do not follow the values she has learned, and she is committed to her studies.
She dreams about building great bridges, tunnels and other great construction projects for the city, state or even for the country, but she knows it will not be easy for her. She is very much interested in physics and mechanics.
Zeydi had to move to a rented place she shares with her cousin and a friend to be able to attend school. The school is actually far from her home and she needed to relocate.
---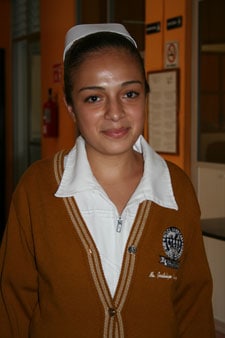 Maria, best known as Lupita, is 17 and is already in her second year of high school in nursing studies. She always dreamed of being a nurse.
She dreams about getting a good job in obstetrics helping mothers deliver or taking care of newborns because she thinks babies are the most wonderful creations.
Her favorite class has been studying all about pregnancy because she is fascinated by it.
"I love seeing babies and learning about their growth in the womb," she says.
Lupita lives with three older siblings, two sisters and a male brother who works as a mason, and her mother who was left single some years ago.
---
Keny is 18 and is not in school but is saving all she can to get into school next year. She and her mother were abandoned by her father when she was a little girl. Now they sell homemade tamales to live on and to start saving for her future education.
She would like to become a physical education teacher because she once had severe health problems that were overcome with lots of exercise and by keeping a strict diet. Then she decided to do something to share what she now knows to help others.
---
Denisse is currently 17 and in high school. She likes to practice tae kwon do and she likes science. She enjoys biology, math and chemistry classes the best, and dreams about opening a cosmetology shop.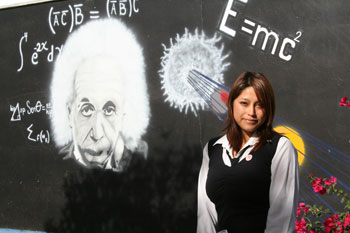 When not at school, Denisse can be found practicing tae kwon do or at the Internet café talking online with friends.
She lives with her mom and dad and has an older brother who had to leave the family to find a better life opportunity.
---
Omar is 17 years old now and works with his older brother as a mason. He wants to study electricity to get a better job. School starts next December.
As a younger student in junior high, he always enjoyed the electricity workshop, and ever since he decided that was going to be his path.
Omar lives with his family — his father, mother and two other siblings — an older brother and a younger sister who attends the student center.
he used to think about not attending school any further than elementary school, but his teachers and leaders at the student center challenged him to finish high school, and he did.
"If it wasn't for them I wouldn't be the same I am now. I know for sure I would have dropped school."
---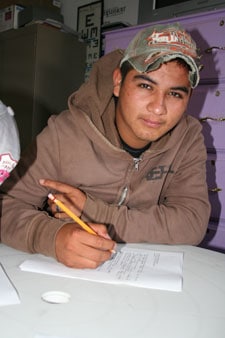 Jorge is 18 and very happy because he just got his registration for college to study a career in administration and entrepreneurship. He wants to start a small business. His favorite class is math, and he also likes to play sports, especially football.
He lives with his parents and six siblings. His father is a mason and his mother runs the home.
"If it wasn't for the student center program I could not get to be what I am or what I aspire to be," he says.
Once, in high school, he was about to quit because he did not have enough money to pay for his studies. The student center provided the resources to cover his education fees.
Before attending the student center, Jorge used to spend entire days on video games. He only needed two pesos to start his game and would not end it until the shop closed.
"Many times I had to sneak home at night, I did not go to school or eat because I spent all many days there," he say. "But the pastor would make me come to church and would make me come to the program. But now I graduated and I am proud of it."
---
Esmeralda is 19 and starting her university studies in agro-industrial engineering. She is studying at the state university and dreams about starting a dairy business to sell yogurt and cheese internationally.
From school she specially enjoys chemistry because she likes the formulas and the reactions the elements make together. Besides school, she likes to read, listen to music and get together with all her friends.
---
Enedina is a 17-year-old girl who aspires to become a nurse. She is studying in her third semester, and although she still has a long way to go in terms of her studies, she has found the support of an older cousin who is already a nurse and has committed herself to helping her complete her studies.
Her dream is to become a forensic investigator nurse, and she loves the computer classes. Her siblings are all older than her, and her mother is currently working as a cook at a small restaurant.
---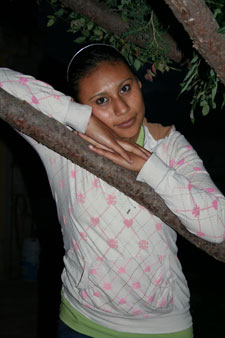 Elizabeth is a 17-year-old who studies at the vocational high school. She just started a couple of weeks ago, but she dreams of becoming a professional nurse just as her former sponsor from Canada is.
Elizabeth dreams of working at the pediatric hospital in Tulancingo, which treats children from all the surrounding communities.
During the time she was registered at the student center, she was very happy to hear about the work her sponsor did as a nurse and that inspired her to pursue this career.
She got into a high school that offers vocational training on nursing, and although she has to travel 40 minutes by public transportation every afternoon to school, she won't waste this opportunity.
Her father works as a mason and is highly committed to work hard and make enough for her to go to school and to pay for her school materials.
As a hobby, she enjoys playing with her younger brother and caring for him. She is part of the youth group at church and enjoys talking to her friends. Her favorite class is reading.