According to the Health Ministry in Bolivia, the malnutrition rate among Bolivia's children is approximately 16 percent; 125,000 children under age 2 have not achieved adequate growth for their age.
Chronic malnutrition is the most dramatic manifestation of the deep social and economic problems accumulated throughout Bolivian history. Chronic malnutrition remains an unsolved public health problem.
It's the main problem for children under 2 and the damage that it causes is irreversible. Therefore, the first two years of life represent a unique opportunity that can't be wasted.
Lizeth, a Child Survival Program coordinator in Bolivia, explains,
"Malnutrition is one of the main diseases among children under 5 and it's because children don't receive good nourishment or families have very low resources.

"However, according to the nutritionists, it is also because families are not well informed that there are foods that can replace meat and also have nutrients."
When visiting communities in Bolivia, it is not uncommon to learn that a high percentage of the children are malnourished. Thankfully, through Compassion's Child Survival Program, children have been saved and most of them are gaining adequate weight for their age.
Patricio and Matías are two children who have been saved thanks to being part of the Child Survival Program.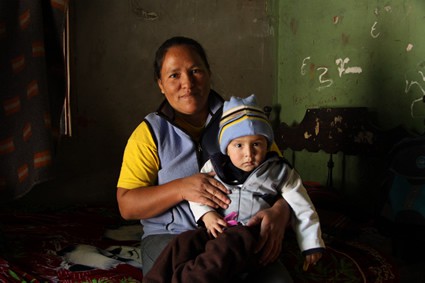 In Santa Cruz, on the tropical side of Bolivia, Miriam and her husband live with their 1 1/2 year-old son, Patricio, and his five siblings.
Despite having a house of their own, Miriam and her children have experienced the pain of having to go to bed with empty stomachs on many occasions.
Lizeth shares,
"When I visited them, Miriam's husband hadn't [been home] for three days. He had found a one-week job, then he disappeared and [later] he arrived without money."
Miriam doesn't receive any kind of support from her husband, who has been unfaithful to her. They already had five children, so when she found out that she was expecting Patricio, she drank different things in an unsuccessful attempt to abort the baby.
Miriam tells us,
"My baby was born premature. He weighed 4.8 pounds, he was yellow, didn't have hair or eyelashes and eyebrows. He was very small and thin."
Miriam entered the Child Survival Program when Patricio was 2 months old, and he started to gain weight. But when he was a year old, Patricio became very ill and refused to eat.
"He had fever and was treated for different kinds of illnesses and received every kind of medicine. His weight got to just 15 pounds. 

"The doctors gave my baby back to me, saying that he would die. He didn't move, the fever was very high, and he didn't even open his eyes."
Child Survival Program personnel, along with the pastor, visited the family, prayed for them and kept trying to determine the cause of the child's sickness. Finally another doctor found that Patricio had a fungus in his stomach, probably due to the things his mother had ingested when she tried to abort him.
Miriam says,
"The program always helped me very much. They also supported me emotionally. When I felt that I was going to pieces they helped me; they helped me in every way.

"They helped me economically; they paid for all the analysis, medicines and now are providing healthy food, cereals and milk, which are good for him. He is improving – what he didn't do when he was little he is doing now."
Lizeth explains further,
"[When] her child got sick, Miriam started to attend to church again. The week the baby started to get better she presented him at church and since then he has gotten much better.

"Miriam also gave her testimony of how the baby was getting better. She will soon get baptized, too. The pastor goes with his wife to her house to teach her about what baptism means."
Malnutrition affected Patricio's development. He can't say much yet and isn't walking on his own, so the Child Survival Program personnel are helping him strengthen his legs with exercises and are helping him learn what he needs to know at his age.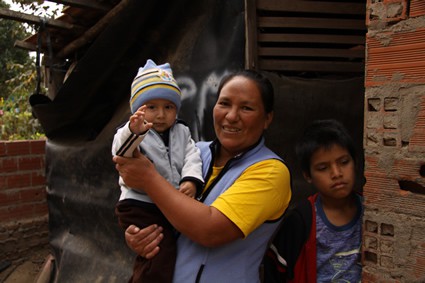 A nearly rejected child has become a cherished blessing for Miriam and her family. Thanks to the Lord and to the Child Survival Program, Patricio can now enjoy his precious life.
Rita and her son Matías are from La Paz in the high-plateau area of Bolivia. Rita has three children and lives with them and her husband in a house loaned to them by her in-laws.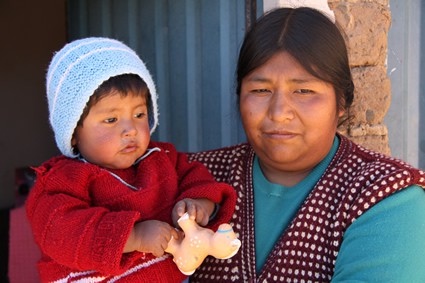 Rita and Matías joined the Child Survival Program one year ago.
Matías was born in a hospital and at the proper weight. Suddenly, though, when the baby was around 6 months old, he didn't have strength to nurse anymore. He began to lose weight and Rita started to feed him oatmeal.
Rita's husband also became ill and stopped working, so Rita had to work to support her family. She didn't have much time to take care of her children and didn't realize how dangerous Matías' condition had become. 
Sabina, Rita's Child Survival Program coordinator, tells us,
"When the implementer found the baby, he was lying on the bed and couldn't even breathe. Since he didn't receive good nutrition, he was very weak. The implementer immediately took him to the emergency room.

"The doctors recommended special milk for him and that's what we provided them. I believe that if the baby hadn't been treated on time, we would have lost him."
The doctors diagnosed Matías with anemia.
Rita shares,
"Honestly, we didn't have the possibility to buy his milk because it was too expensive, so we thought that our baby was going to die anytime. He was very thin.

"My son used to be there just lying down. He didn't do anything. Now he moves, walks and speaks. I am very thankful.

"I couldn't provide him what he needed. The program helped us and especially my son very much."
Through the Child Survival Program, Rita has also learned about nutritious foods she can feed her children. Each month she receives a food basket from the program. The food basket includes milk, yogurt and cereals.
Rita also learned how to knit at the program; now she knits to support her family.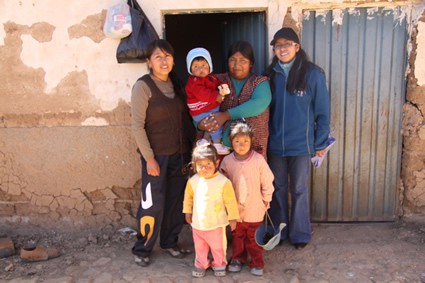 Thanks to the Child Survival Program, the family now has a healthy baby. They also are attending church again because they recognize that God has blessed their family.
Malnutrition affects children from one side of the country to the other. But 30 Child Survival Programs in Bolivia, each with 50 to 52 beneficiaries, are thankful to the Lord for the great blessing of the program.
Many lives are being saved, families are being restored, and parents are attending church with their children.