Many people spend a lot of time worrying about the future. They tend not to focus on God but instead are limited by what they see in their immediate environment.
I was born into extreme poverty, and I could not imagine, when I was younger, that I would one day work in a huge and good organization like Compassion, where I can impact many children in intense poverty.
My parents were saved, but my life was not focused on God back then; it was mainly focused on our poor living situation. After accepting Jesus Christ as my personal Savior, I found joy.
Recently, when I was meditating on Jeremiah 1:4–8, I discovered how much I am loved and that I have been chosen by God. I am not an accident.
It is not by accident that I am working with Compassion. All along, God had good plans for me to work with Compassion and impact many children and Implementing Church Partners.
God told Jeremiah, "I chose you before you were born." We don't have to worry about tomorrow. God is with us. We only have to be faithful to God and His promises.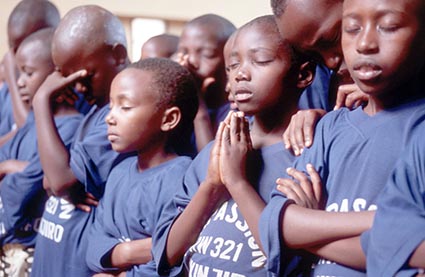 We may say that we don't speak well, that we are still too young, that we don't have a degree in theology—but the one who called us is able to help us accomplish what He wants us to do in Compassion. Be courageous!
God is with you, and this is His business. Just be obedient and ready to serve, and God will help you accomplish what He chose you for even before you were born.
The LORD said: "Jeremiah, I am your Creator, and before you were born, I chose you to speak for me to the nations." I replied, "I'm not a good speaker, LORD, and I'm too young."

"Don't say you're too young," the LORD answered. "If I tell you to go and speak to someone, then go! …I promise to be with you and keep you safe, so don't be afraid." —Jeremiah 1:4–8, CEV
Prayer: God, we pray for Child Survival Pprogram babies and pregnant mothers in Rwanda and around the world. Please reveal your noble plans for their lives. Let them focus on you alone and discover your love. In the name of our Lord and Savior, Jesus Christ, we pray, amen.
---

ABOUT THE AUTHOR: Etienne Muhoza works as a Church Partner Program Manager for Compassion Rwanda.
Read all the One in Spirit devotionals.