More specifically, do you sponsor a child in one of these three child development centers in El Salvador?
ES526, Bethel Student Center
ES808, Cachorros de León Student Center
ES782, Comisión de Amor Student Center
If you do sponsor a child in one of those three centers, let us know. These are the centers that the CompassionBloggers will visit next week, and we have someone going who is willing to TRY to get a photo of your child for you.
We can't guarantee success, but we will do our best.
Please don't leave your child's name or number in your comment. Just let us know you have a child at one of the centers and someone will contact you via e-mail to get the information. Or you can send us your information via our contact form.
---
From Nov. 9 to 13, four bloggers will witness firsthand how we minister to the poor of El Salvador. Visit CompassionBloggers.com daily to travel with them through their stories, pictures and videos.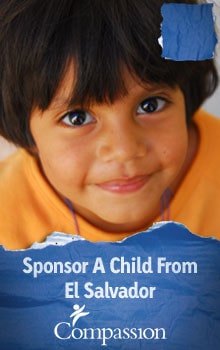 Use this code to post the banner on your blog.