Photos by Ratchana Suksabye.
---
It was night at the Chiang Mai 700 Year Stadium, and the quiet evening was disrupted by a loud voice coming from the tae kwon do gym.


The spokesman announced the names of the new northern region competitors for the final round of Her Royal Highness Princess Maha Chakri Sirindhorn's cup.
There were many people shouting and cheering in celebration of the finalists who had been announced. Amidst the storm of voices, finalist Siriporn stood still.
She did not hear a single word from the crowd, but was focused on her whisper to God. She silently prayed, "May this competition glorify your Name."
As she opened her eyes, she was ready for the last battle in the spotlight.
Siriporn is a young girl from Thai Chareuntham Child Development Center, located in the rural area of northern Thailand. While she walked onto the floor, all she was thinking about was that the day she had been waiting and training for had arrived.
Her parents are carpenters who live on a salary of $121 per month. Siriporn is 16 years old and studies in grade 10 at Sung Men School. She has one older sister who is not registered in the child development center.
Help Families Affected BY COVID-19
Families in poverty have no safety net in times of crisis. Help provide food, medical care and support during this pandemic.
The center had previously taken a survey to see what activities the children were interested in doing. Siriporn and her friends wanted to learn the art of self-defense: "I am just a little girl, and I want to have some skill to protect myself," said five-foot-tall, 101 pound Siriporn.
Ratchana, the director of the child development center says,
"Almost all of the activities we conduct are requested and voted for by our children. Learning tae kwon do is something far beyond their reach. The course and the equipment are very expensive, which the parents in this area could not support."
Siriporn's dream to learn tae kwon do might be like a bubble in the air if it were not for the strong determination and dedication of Thai Chareuntham Child Development Center staff members to respond to their children's needs.
Ratchana says,
"Our children have a very wonderful opportunity to learn. Wearing the tae kwon do suit makes them feel proud, because though they are children with less means, they are still able to learn a sport like tae kwon do.

"We have many young girls. I am worried for their safety, so I was happy that they wanted to learn tae kwon do. This is a very new activity for us and we just started in July 2007. In the beginning all the girls were shy to kick or punch, but later on they became stronger and tougher."
The director admits that she had another reason for conducting tae kwon do. She hoped this activity could be a way of also bringing children to the true Father. Since Thailand is a strong Buddhist country and almost all of the registered children are not believers, she included biblical teaching during the activity. She patiently waited and hoped this seed would blossom in the children's hearts one day.
Siriporn says,
"Every time before and after practicing, the staff members lead us in prayer. At first I felt weird, but now I am used to it. The staff even call us to lead the prayer. I feel that God strengthens me after praying."
Siriporn and her friends first practiced on the field, where they ran and kicked with bare feet until their little feet got swollen. The child development center staff members saw the strong determination from the children, so they had an idea to buy cushioned mats but the price was very high. The tae kwon do students began to collect their own money to buy the mats and other equipment.
Siriporn says, with determination,
"We want to learn tae kwon do so badly so we are willing to pay some of our own money to the student center. I collect five baht ($0.15) everyday to help this activity. I don't think paying is a burden, because this is from our heart."
Even though the center had tae kwon do materials, they were still struggling with the high expense. The center paid the tae kwon do instructor $202 every month, until they could no longer support the activity.
The center director decided to shut down the tae kwon do activity, but the children showed their strong desire to continue learning. The registered children even gave more money in the box to have enough for their beloved activity.
Tae kwon do students continued to come to practice. Their commitment to an activity they loved broke the center staff's hearts because they realized they could not shut down this activity, even though paying was a significant problem.
After several months, the tae kwon do instructor challenged students to compete in the regional championship level in October 2007. All the students were eager to go but faced a problem. The children had not completed any rank or "belt" yet.
They had to take a promotion test in which they demonstrate their proficiency, and each child would have to pay $16. Again Siriporn and her other 10 friends had to save some of their money to take a test with the center's support.
After all nine tae kwon do students passed the test, they were now even more dedicated tae kwon do athletes.
When the day of the competition came, all the tae kwon do competitors from the child development center walked into the gym with both excitement and nervousness. Before the game, we all gathered together and prayed out loud to our God, while other groups were staring at us," remembers Ratchana with a soft laugh.
Siriporn says,
"I prayed very hard during the competition. For the first match I thought only to do my best, but after I won, I gained more confidence and said to myself I could do even better."
Siriporn did not only "do it better," but she did it wonderfully. She was the champion of the newborn tae kwon do of the North Region of the High Royal Princess's cup. The moment she received the gold medal, she was not a little girl but had transformed to be a tough young woman.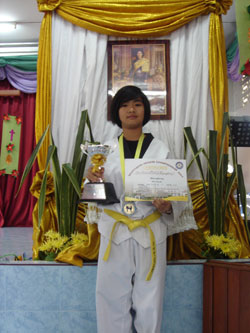 Siriporn's mother is very happy that there is a child development center in the village. The center fully supports her family in many areas. She says that Siriporn is the only student around this neighborhood who is registered in the development center and she sees a lot of difference between her and other children.
Siriporn faithfully goes to the center, studies hard, is accountable, and is teachable. Siriporn's mom is very proud of her. Before Sirirporn joined tae kwon do, she was shy, irresponsible, unconfident, and unteachable.
But now she has self discipline, and is brave to lead others, able to control her emotions and feel so proud of herself. She says that learning tae kwon do helps her gain strength in both physical and spiritual areas of her life.
Not only did Siriporn receive the gold medal, but her eight student friends also earned awards. One won a gold medal, four won silver medals and two won bronze medals. There was only one who went back home empty handed.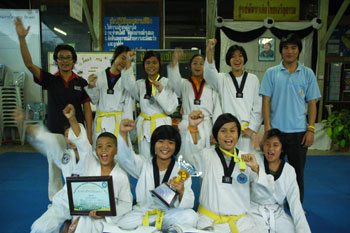 Ratchana says,
"Siriporn is the one who captivated our hearts. She is a mature and outstanding example to others. She has self-determination, is reliable, punctual, responsible and teachable, and has a good will. She has proved herself by qualifying for the provincial tae kwon do representative. Siriporn has the potential to be a big star because she is very fast and a smart athlete. I am very proud of our registered children."
Champion Siriporn is going to walk into the hall of fame one day, but she has already entered into the kingdom of God. Siriporn accepted Jesus Christ after she came back from the competition and she is now studying the baptism course. Siriporn says,
"Without this student center, I cannot imagine where my life would be. I might be a mischievous teen who did not succeed in anything in life.

"But thanks to God I am in the student center where I have gained many wonderful things: I receive good opportunities, am connected to the true God, and I have good encouragement and advice from the student center staff."
Our champion dreams of becoming a tae kwon do champ in a big championship tournament and hopes that such an achievement will become a passport to fulfill her dream of studying at the university level, a dream that many of her neighbor friends don't dare to wish for because of the poverty and lack of opportunity.