"When nights are cold and dawns much colder," says 14-year-old Ozias, "when there is freezing wind, when our skin cracks and always looks dirty, when our mothers insist that we use lip balm, and when we do not have to wake up early for school, then we know it's Christmas season!"
December is one of the coldest months in Burkina Faso, with temperatures drastically dropping below 59°F. It's very windy, and dusty too. There is no snow, but nights and dawns are still unbearable for people without suitable clothes.
Early in the morning, children light a fire with dry millet stems gathered in the neighborhood. They warm themselves around the fire and feel happy because they do not to have to go to school for two weeks. In most families, there is water boiling on the fire early in the morning for people to wash themselves.
White missionaries sent from Catholic and evangelical churches introduced Christmas traditions to Burkina Faso. In a multi-religious setting where Christians represent only 4 percent of the population, great work has been done by the churches to share some of their traditions with the whole community. Even non-Christian families join their relatives and neighbors to celebrate Christmas. As a result, Christmas is the second-most-popular celebration of the year, after New Year's.
Christmas in Burkina Faso is typically celebrated both among families and in churches. Preparations begin in early December, with parents trying to save a portion of their crops or money to buy food. For them, Christmas is not about decorations and gifts for children, but about good food for the whole family and the neighbors.
In the agro-pastoral town of Kaya, preparation even starts in November. Food grains for Christmas are stocked in a separate loft while the goat, sheep or pig that will be killed is chosen and fattened. And peanuts, beans or cotton are sold to buy new outfits for the wife and the children.
Children, too, have their own preparations to do. For example, they save a part of their allowance just for Christmas. This money will be used mostly for one thing: building a crib.
For four consecutive Christmases now, Fidèle has been building cribs in front of his gate. He explains how he works to get his cribs ready for the holiday.
"Two to three weeks before Christmas I buy cement and paints or just create paint out of colored chalk. Then, with a square, homemade mold I start making mud bricks. It takes several days until I get the desired number of bricks for the crib."
Then Fidèle can start building his crib. Every year the old crib is destroyed to make way for the new one. Shortly before Christmas, a finished crib stands in front of the compound with beautiful colors, drawings, fresh grass and sometimes clay figurines of animals. Fidèle's family does not have electricity in their home, so unlike their neighbors' cribs, his will have lighted candles on Christmas night.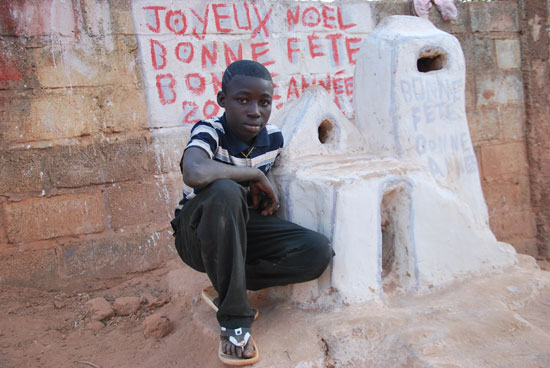 Preparations at church and at the Compassion child development centers are done with great care. Various church departments hold meetings to discuss the activities to be carried out and the appropriate strategy to raise money for food and gifts for children. Children and adult choirs learn special songs to sing on the celebration night. A committee will clean and decorate the church while others will direct the cooking, security and parking, and other aspects of the celebration.
In the Compassion-assisted centers, November and December are the busiest months of the year. Center staff know how important the Christmas celebration is for the children and work their hardest every year to make it a special day.
As in many parts of the world, Christmas is celebrated on December 25 here. However, different programmatic issues may require some churches to celebrate a bit earlier or later.
In many churches, Christmas Eve is the highlight, the night that is worth so many weeks of preparation. This is the night when a service is held at church, a Christmas message is delivered and different groups perform songs, plays and verses. Celebration generally ends at midnight.
Christmas in a Compassion-assisted center in Burkina Faso is a day of merry gathering. On Christmas Day, children are the first ones to arrive at the center. Many mothers and a few fathers join their children and watch from a distance as the youth go about their activities.
All the children wear the new clothes they received a few days before from the center. They all look neat and beautiful and joyous.
Before the celebration activities start, groups of children are found here and there rehearsing for the last time. The kitchen staff is busy cooking hot spaghetti, rice, fish and meat. There are homemade juices of the local bissap, ginger and millet flour stored in containers with ice. There are also sodas, cakes, shrimp, popcorn and candies.
When everything is in order, children and their parents are called inside the church for the program. For about two hours, groups of children go one after the other onstage to show their parents and the other children what they have been busy learning for the last two months.
Nervousness can be seen in most of the children's eyes; they are afraid of failing. But when they finish well, their faces display another emotion. Pride.
They feel proud of accomplishing an extraordinary work. Their mothers, too, are proud to see their children perform successfully in front of so many eyes. When a group finishes performing, they are thanked with a standing ovation. When all scheduled performances are done and the pastor has given the Christmas message, children and their parents gather for food and sharing. Unlike ordinary development-center days, Christmas food is special, and there is also enough for parents.
Every year, after the meal, the tradition is to distribute gifts to all the registered children. Depending on the center's budget, the staff may decide to buy candies, toys or more utilitarian things such as shoes and clothes.
For the non-Christian children and their parents, this is the only celebration they will have. But for the others, the festivities will continue at home on December 25.
Christmas Day is far different, without music, lights and sweet cakes. Each family celebrates with what they have. For children who grow up in such families, the Christmas dream they experienced at Compassion is one they would like to have again and again. This is the beautiful dream that brings hope and makes them feel that they, too, are like children from wealthy families. This is the dream in which they realize that there is someone, somewhere in the world who loves them!