The church is the means through which we implement our holistic child development program. Our partner churches dedicate time, energy and love to serve children in need. And as we do so, the little ones are discovering hope for the future. This hope was found by a gentle boy named Abdoulaye in Burkina Faso.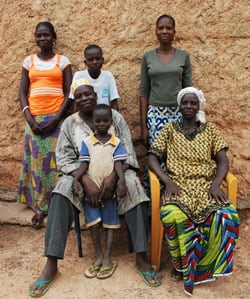 Abdoulaye is from a modest family. His father is a night watchman and his mother is a weaver. Abdoulaye has two older sisters and three younger brothers.
Because of the family's low income, they cook only once a day. The mother cooks for lunch and the leftovers are eaten at dinner and at breakfast the next morning.
Abdoulaye's parents must do everything they can to save money, otherwise they might have to go back to their village and ask relatives to take the children. The father has struggled hard just to have running water in the house. At night the family uses a kerosene lamp for lighting.
Eleven-year-old Abdoulaye is a brilliant student in grade six. He enjoys playing soccer and marbles, and dreams of being in the army.
In the past Abdoulaye struggled to earn passing grades. Since he changed his school he has been ranking among top students. What made the difference?
Abdoulaye was registered at a child development center in March 2006 at a critical moment for his family. His father could no longer pay the boy's school fees.
However, since Abdoulaye's registration, the center has been paying his school fees, and a volunteer teacher has been giving him private coaching, along with all the registered children at the center.
This has helped Abdoulaye and the other children improve their school performance to the point that Abdoulaye ranked first in his class in the second term this year.
Physically, Abdoulaye and his family have greatly benefited also.
"Since his registration I have not spent a penny on medical care for Abdoulaye when he is sick. And I have not bought any clothes for him. All these things are provided by the center," Abdoulaye's father says with a large smile on his face before adding, " The center often gives Abdoulaye some food supply that is useful for the whole family."
But the family is also nourished spiritually. The boy's father testifies that because of the Bible teaching Abdoulaye has been receiving, Abdoulaye has been praying a lot for the whole family.
Despite the fact that the family has a Muslim background, Abdoulaye's siblings enjoy reading from his illustrated Bible. Even the father, who cannot read, likes to go through it and look at the images. They sometimes gather to listen to the boy telling stories from his Bible.
The most impressive thing is the trust that Abdoulaye's father, who is a Muslim from a Muslim background, has put in the church where his son attends the center activities.
"I am a Muslim and I have studied the Koran. But, I should confess that the church is trustworthy and I trust them fully. I once fell sick and was helpless. My religious group tried but could not heal me. I was relieved after a certain pastor prayed for me."
In fact, Abdoulaye's father would be happy to become a Christian, but because of his extended family members, who are all Muslims, he feels he cannot.
If he were to abandon his family religion he would be in trouble. His family would treat him and his nuclear family as outcasts. Living in a family oriented society, Abdoulaye's father does not want to take the risk of losing his extended family by becoming a Christian.
"If it was possible to have two religions I would take Christianity as my second; I trust the church so much!"
The good reputation that the church has established has brought many people from diverse backgrounds to register their children at the center. Like Abdoulaye's father, another Muslim caregiver in another area was not afraid to shout publicly that he wanted his registered child to be a pastor.
Coming from non-Christians, these words are much more than simple appreciation. Because of corruption and embezzlement, most people in Burkina Faso do not really trust development organizations and non-governmental organizations in general.
Fortunately, the partnership between Compassion and the church is seen as a good development opportunity because of the trust that people put in the church. The church is seen as an institution that vouches for integrity and godliness.
Palamanga Ouali, Country Director of Compassion Burkina, strongly believes that when Jesus was on earth He took care of man in a holistic way and that for this reason, the mission of the church is to bring about true development that takes into consideration man as a whole.
"The Church is the Bride of Christ through which the world should know the Lord, and to my knowledge God has not planned an alternative."
The local church is the partner Compassion works with, and churches around the world are experiencing results in the lives of registered children, their families and their communities. That is precisely the reason why we love the Church!