Editor's Note: Every summer, 20 university students enroll in our 10-and-a-half-week internship program for the opportunity to gain professional experience within Compassion ranging from church engagement, child advocacy, and field video editing to IT, human resources, graphic design, and finance. This is just one of the many experiences from their country trip to Guatemala.
---
From the moment we arrived in Antigua and were thrown into an enormous parade with the children of the center, I knew this trip as a Compassion Summer Intern was going to be unlike anything that I had ever experienced before.
As we seemingly wandered the streets of Rosa Linda toward La Semilla (the church with which Compassion partners) following our troupe of dancers and musicians, I could not help but notice the state of our surroundings. Stray dogs walked up and down the streets, garbage filled in the spots where the roads had fallen apart, and families came out of their one-room cement houses to inspect the strangers that would be engaging with their children for the next three days. On day one, Compassion became real for me.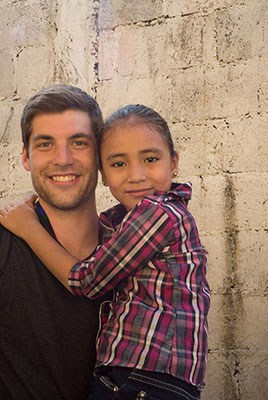 I had the chance to hear the stories of the children who had been sponsored and see the letters they have held close to their hearts for years. I had the chance to eat the food that Compassion sponsors helped provide. I had the chance to sing songs of praise to the God we both served.
Then Compassion moved from becoming real for me, to becoming personal. There were five young children who had not yet been sponsored at La Semilla, and as I looked at Blanca Alina Hernandez Chinchilla's packet, something felt right. I knew that I was going to sponsor this girl. Two days later I had the chance to meet her, hold her in my arms, and hear her story, and I knew I had made the right decision.
This was a girl who had never known her father, been disregarded by her mother, lived with her grandfather and still, despite all of that, she had an infectious hope and spunk to that impacted myself and those around me. After an extremely difficult goodbye hug, I got on the bus and looked out the window; there was Blanca smiling, with her sunglasses and smile both worn proudly upon her face.
I am beyond excited for the opportunity to shine a little bit of Jesus into her life because God knows she has already done it in mine.
---
ABOUT THE AUTHOR: Alex Tunell is from Superior, Wisconsin and goes to Bethel University in St. Paul, Minnesota where he is studying Marketing and Communications. At Compassion he is the Marketing Research Intern and is loving every minute of it. He enjoys camping, hiking, basketball, and ultimate Frisbee. He is also the eldest of four children and loves traveling with his awesome family.