Recife is a beautiful city in northeastern Brazil. Known as the "Brazilian Venice," it was founded in 1537 by the Portuguese and was greatly influenced by the Jews and Dutch. The Atlantic Ocean bathes its beautiful beaches, and the temperature can exceed 104 degrees Fahrenheit.
Foreigners and Brazilians go to Recife to travel and to rest. But hidden behind the great avenues and beautiful places is another Recife: the Recife of violence and drugs, with broken families because of the troubles that drugs bring together; the Recife of gunfire that scares children and kills innocents.
"I still have no emotional structure to even listen to fireworks," says Adriana, director of Centro de Desenvolvimento Integral Vida 1, which lost an employee to murder last year, a victim of a gang war. "There was so much shooting, so much shooting!"
The employee's name was Alexandre, and he was killed as he was leaving the center to exchange a crate of soda. A drug dealer suddenly grabbed Alexandre and to protect himself from gunfire coming from another drug dealer. It was urban warfare, and an innocent died.
Inside the center, the children could hear the shooting and were scared and started crying. They lay on the floor in fear after the gunfire began.
"It was a terrible time. It was difficult to explain to the children that God was in control. We lost a friend. Alexandre was loved by the children."
If losing a beloved teacher is traumatic, imagine when a child sees his mother being arrested by the police?
Emídio is only 5 years old. He saw his mother crying, asking him and his siblings to forgive her as she was being arrested and taken to jail.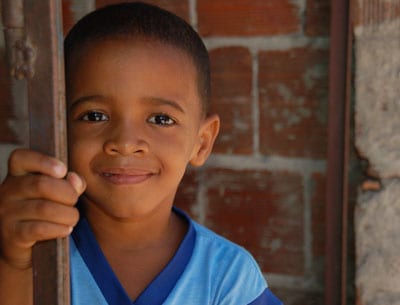 Michele left Emídio, another little child and two twin babies without a parent because of her irresponsibility keeping guns and drugs inside the house. She did it to earn some money, even though she knew it was illegal, and that the police could come any minute, just like they did when her partner was arrested for the same reason. (Emídio's father was murdered in front of the development center while Emídio was still in his mother's belly.)
After the arrest, it was not unusual for Emídio to arrive at the center worried about this situation. Even as a young child, age 4 at that time, he knew what consequences his mother's actions could bring.
Emídio warned his mother many times and asked her not to keep drugs inside the twins' socks or below the sink.
"She slapped me in my mouth every time that I warned her."
The first time the police invaded the house searching for drugs and guns, Emídio's mom hid them and the police couldn't find anything. But before they left the house, they beat her in the face to try to get her confession. This shocked Emídio.
The second time, the police found the drugs and guns. Now Michele, who is only 23, is in jail. She might be free at the end of this year or in early 2011.
Each of Michele's children is living with a different relative because no one relative can support all four. Emídio is living with his grandfather.
Emídio loves his mother, despite her mistakes. Once, Emídio asked for coins from a neighbor, and Michele didn't like this. Instead of talking to him about it, she put a hot spoon in his mouth as a punishment.
The next day he arrived at the center with a big injury. At the end of the class, a teacher called him to talk and asked gently the cause of the wound. With maturity, the boy, age 5 at the time, answered:
"I would like to say to you what my mother advised me to say … but I can't lie. I know that he who lies is the devil's son. She told me to tell you that this wound was caused by hot soup. But the truth is that she put a hot spoon in my mouth."
Adriana walks through the center slowly, watching each step taken by the children. She knows their names, their stories, their pain and fears.
The center is a safe harbor for the children. It plants the seed of God into the little hearts, and when a tragedy happens, like Alexandre's death, the teachers talk to the children about sin, heaven, salvation in Jesus, and the love of Jesus taking care of them.
After the initial shock of Alexandre's death, the teachers talked to the children about the resurrection and the hope for Alexandre's recovery in heaven.
Emídio gets special attention at the center because of his story. When Michele was arrested, Adriana observed Emídio and noted that he was in depression, despite his efforts to stay strong and hide his sorrows and concerns. He refused to eat and struggled to play and participate in the classes.
"We saw his sad eyes and we missed his smiles. We prayed for him and always brought him over to talk. Here, at my room, he opened his little heart talking about his problems."
Emídio was accustomed to looking after his three siblings, and he was worried when they had to separate to live with different relatives. Before Michele was arrested, Adriana says that once Emídio came to her room nervous, and vented:
"I can't take care of my twin sisters anymore! If I hold one, the other starts to cry! I'm thinking about giving one to someone in the street! Teacher Adriana, please, would you like to take me to your house to take care of me? I need someone to take care of me!"
Emídio has a heavy burden and he vents the way he can. Inside the secure walls of the center, Emídio has the chance to show his feelings and to be a child, forgetting about his worries.
Emídio's story represents the story of many children who attend Centro de Desenvolvimento Integral Vida 1. Children who are victims of the drug dealing, gangs and the violence hidden beneath the Brazilian Venice.
But the grace of God overflows in these places and in the lives of the little ones, through the actions of his servants, such as Adriana, the center staff and others.