On Saturday night, a 7.8 magnitude earthquake struck near the central coast of Ecuador causing devastating damage. According to news sources, an estimated 350 people have died and at least 2,527 people have been injured. These numbers are expected to rise as rescuers continue to search through rubble.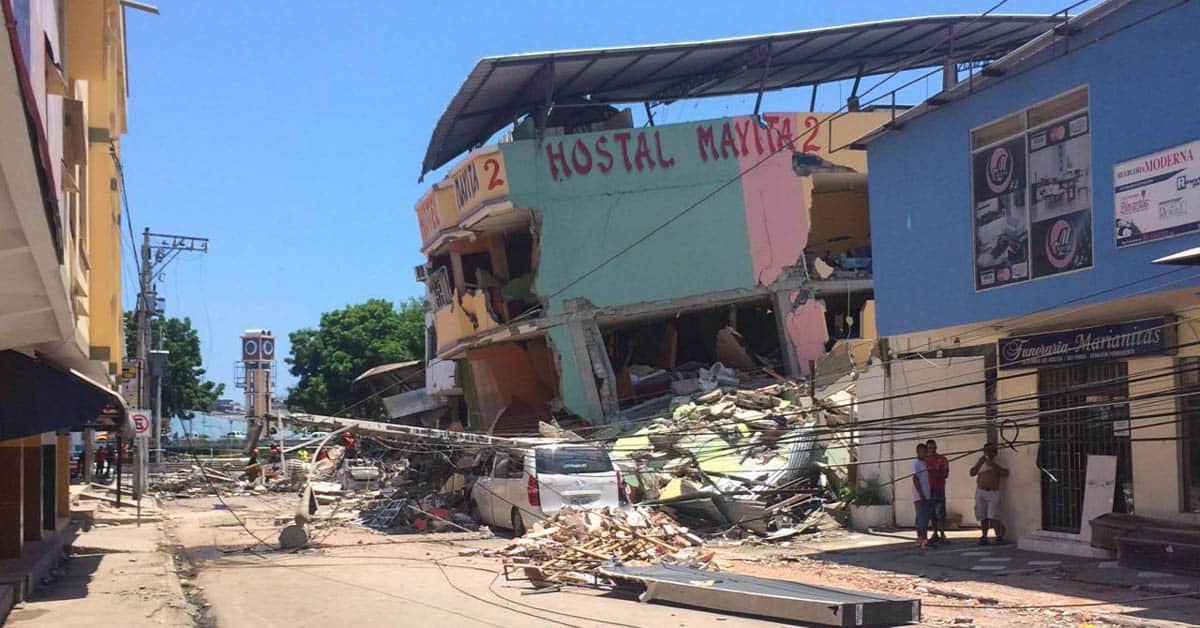 The government, military and local responders are mobilizing. They're taking care of the needs of the communities and people affected by setting up shelters, mobile hospitals and donations centers.
The Compassion Ecuador staff and the staff of our local church partners are also mobilizing to assess the needs of the children, families and communities we serve. There are more than 70,000 Ecuadorian children in our programs in partnership with over 240 churches throughout the country. Over 13,000 of those children live within a 30-mile radius of the epicenter – in towns like Porto Viejo and Manta, within the Manabí Province.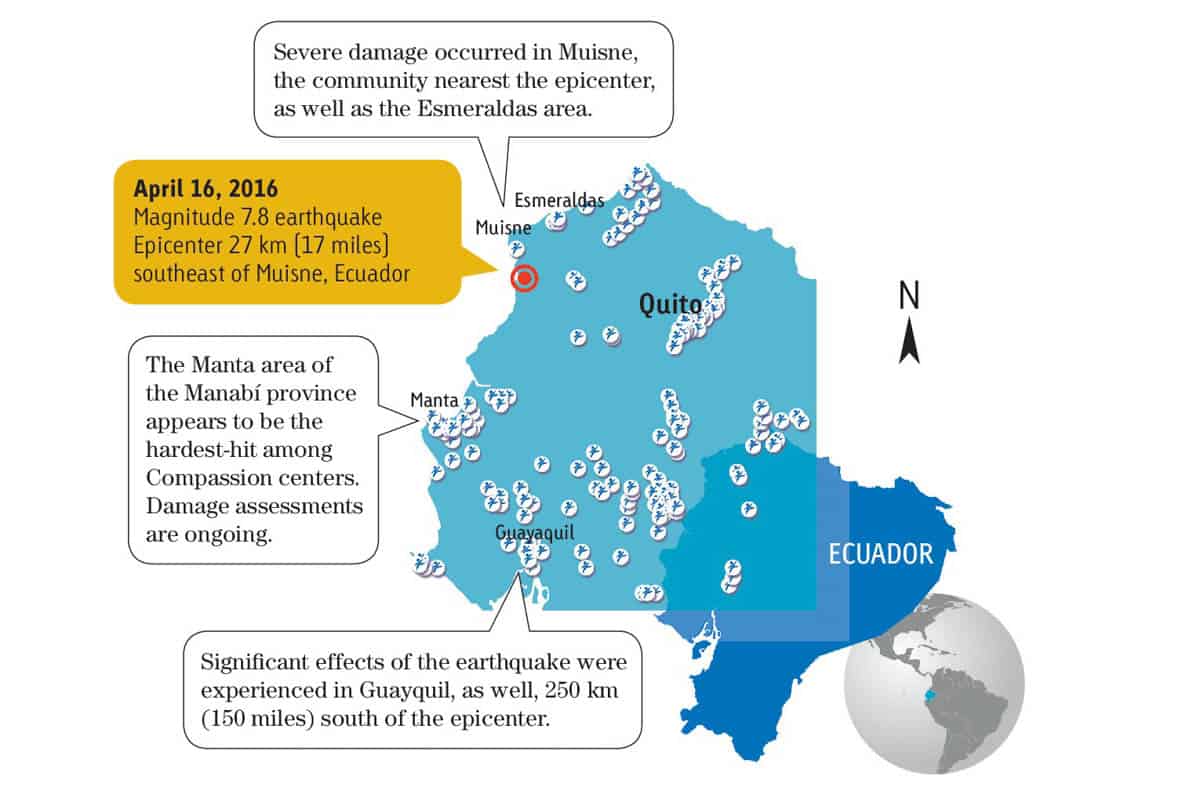 The tremor disrupted communications throughout a large section of Ecuador as well as damaged roads and infrastructure, making it difficult to gauge total impacts to the region. Church staff are assessing damage and going door to door to check on the families of the children.
"In situations like these, our first responders are often victims themselves," says Herb Ehresman, Compassion's director of complementary interventions. "While they are trying to grapple with their own shock and recovery, they are also assisting the families of sponsored children in their churches. Early in our assessment, we believe several of our sponsored children either lost their homes or their homes suffered damage due to the quake. Four of our church partners suffered damage and are temporarily closed. Several churches lost their water towers."
We have not yet received specific information regarding the children or their family members who have been impacted because the damage is still being assessed. Rest assured that if the child you sponsor has been affected, we will contact you directly regarding their safety and well being as soon as more information becomes available.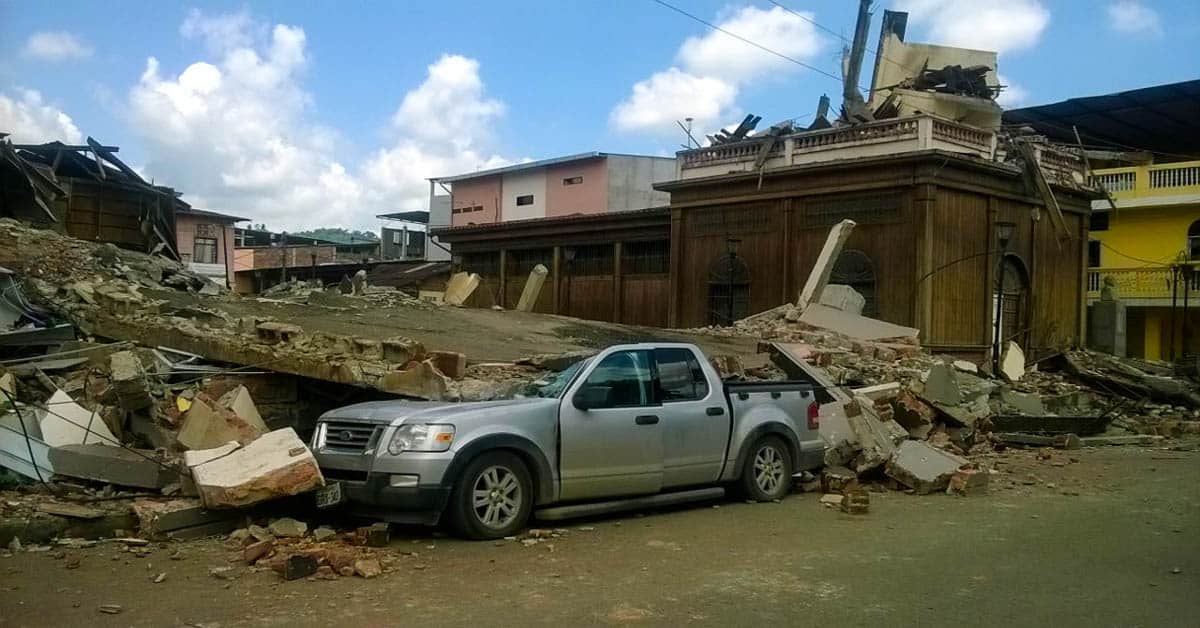 As we await word on the specifics of the damage and those affected, here are two ways, as our friend and supporter, that you can partner with us in our efforts to address the Ecuador Earthquake:
Pray With Us and For Us
Pray for the local officials and government, that their efforts at relief and rebuilding will be swift and fruitful. Pray for effective mobilization of resources and volunteers.
Pray for the victims and families of the deceased, that God will provide them with quick recoveries and comfort in their grief.
Pray for miraculous stories of survival as people are pulled from the rubble and the endurance of those carrying out rescue efforts.
Pray for the Compassion Ecuador staff and our local church partners as they assess the needs of the children and their families.
Pray for the children in our program and their families, that the "God who sees" will provide safety and be with them through this tragedy.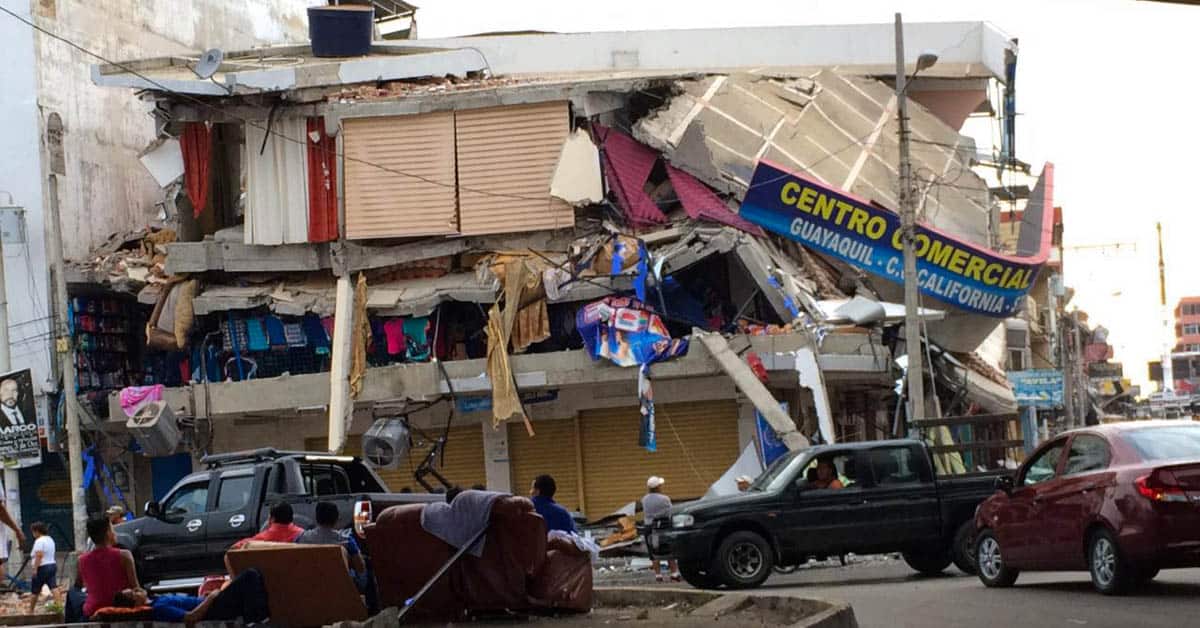 Partner With our Disaster Relief Efforts
Our initial efforts will include emergency assistance to the children and their families who may need access to clean water, food or emergency shelter. You can make a donation to help with our earthquake relief efforts.
Funds raised beyond the need in Ecuador will be used to help Compassion children and families who are victims of other disasters around the world.