"When there is food for two, there is enough for three." So goes a local saying in Burkina Faso.
This saying reminds us that having something to eat is always a gift from God, especially in communities where food production meets only basic needs. When climate hazards happen, solidarity is the only thing that keeps people surviving and hoping for the coming rainy season to be better.
Barkundba is a pastoral village in northern Burkina Faso. Most of its population is Fulani, a nomadic ethnic group. The village economy depends mostly on raising animals.
In the past, Barkoundba has provided beef, milk and leather supplies to other parts of the country. Due to the recent severe drought, access to quality hay has been considerably reduced, causing dramatic repercussions for milk production and animal fattening.
Every two days Fatimata, mother of sponsored child Soumet, sells two liters of milk so she can feed her family for the day. No money is left for other supplies like soap, oil, condiments and clothes.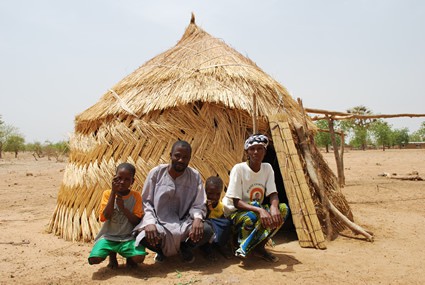 In better times she has had four to six liters of milk to sell each day, and the farm has also produced corn, black-eyed-peas and millet. Today, not only the quantity but the quality of the milk and food has decreased.
The Apostolic Mission of Barkundba Child Development Center is one of the rare Compassion-assisted centers where the children actually come with bowls so they can take some food home to their siblings and parents.  Local church leaders call this "a leap of solidarity." Families are unable to make ends meet otherwise. 
Only a mile from the child development center, sponsored child Saibata lives with her family. She regularly attends the Compassion program on Thursdays and shows progress at many levels. As soon as Saibata arrives home from her child development center, she is busy helping her mother fix something for the family's dinner.
This is the only meal the family will have today. Sometimes her mother saves a little food for the children's breakfast the next morning. But she cannot always do that.
Repercussions of the Burkina Faso food shortage are visible not only in rural areas but in cities as well. The Mission Omega Child Development Center is located in the suburbs of Ouagadougou. Mahamadi's family doesn't live far from the development center. Their living conditions are among the worst in the area. For several weeks now, Hassane, the center's director, has been struggling to keep Mahamadi in the Compassion program.
Mahamadi's father is a day laborer who works as a docker at a goods station. Sometimes he goes a whole week without any contracts. When that happens, he prefers to sleep at the station instead of joining his family because he has nothing for them.
On days when Mahamadi's father has a work contract, he can proudly come home with about $3 USD. This money is what his family will live on until he gets another contract. All six family members live in a nine-square-meter house with no bathrooms, electricity or running water.
This year, prices of crops soared to a level that worsened the family's situation. Many times, Mahamadi's father wanted all of his children to stop going to school and find jobs. Hassane has negotiated with him to prevent the children from being withdrawn from school. Recent weeks have been particularly difficult for Hassane, as Mahamadi's father wants his wife and children to move from Ouagadougou until his situation gets better.
If this happens, it means no more school, and no more child development center, for Mahamadi. Many other children in the area and in the our program will have to move to places where their parents or caregivers believe the cost of living will be cheaper than in Ouagadougou.
The number of families requesting food assistance at the child development centers in Burkina Faso is increasing weekly, and it is likely that some of the most difficult months are still ahead.