God compares us with many things: salt, mustard, light. In Psalm 92, we are compared to palm trees. Why does God do this?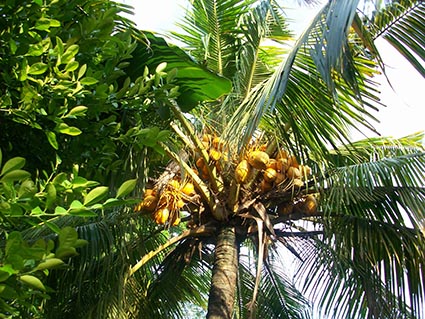 So that we better understand what He desires for His children. Let's look closer at three qualities of a palm tree:
Growth

A palm tree never grows wild but has to be planted with intensive care. It has an internal column of living tissue protected by its bark. The bark can be bruised or cut, yet because the tissue is protected underneath, the palm tree grows to the sky, reaching heights of up to 20 meters.

Our spiritual achievement is determined by our internal growth. Our outward man is like the bark of the palm; it can be abused and battered by many circumstances. But with much patience, fasting, prayer, perseverance, determination, and feeding on the Word of God, we grow!

Uses

The palm tree has more than 200 uses: wood, rope, textiles, mats, brooms, hats, food, and rubber are just a few. Think of the great comparison!

We yearn to be used by God in different ways: to feed others, teach, reconcile, love, and many other things. The palm tree does not wither because its roots are deep.

Likewise, we must have deep roots in our Christian life to be strong. We must earnestly serve; we must feed the needy and be a refuge for others when they need it.

Fruit

In contrast with many fruit trees, the palm's fruit is much sweeter when it is older. So it should be with us. The more we mature in our Christian life, the more bountiful and sweet should be the fruit that we bear as a result of a life in Jesus.

God uses us in different ways according to our availability. In the process, we grow and mature the fruit of our lives.
Where are you? How are you growing? How will your fruit be useful? Are you flourishing like a palm tree?
The righteous will flourish like the palm tree. –Psalm 92:12, NIV
Prayer: Lord, we ask for your guidance and support. We recognize that without you, we are nothing. Please help us grow holistically, use each one of us as you desire, and make us fruitful. Amen.
---

ABOUT THE AUTHOR: Hector Salgado works as a Project Implementation Manager for Compassion Honduras.
Read all the One in Spirit devotionals.