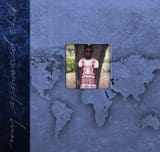 Did you know that February is Compassion Blog Month? We're encouraging you to blog about your Compassion experience and link to compassion.com. If you do, we'll send the first 500 people who sign up a free Compassion scrapbook!
My prayer is that we will have more than 500 people adding a link from their blog, MySpace, Facebook or other site to compassion.com.
Imagine how blessed you will feel if a child is linked with a caring sponsor or receives essential support because of your effort!