Who would have imagined a boy from a small, agricultural community in southern Cochabamba would become an important member of the Bolivian president's cabinet?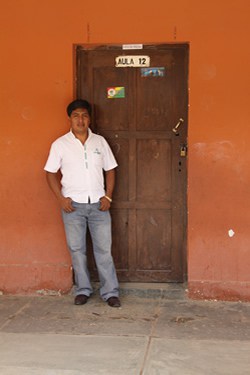 Franz Rosales is the oldest of eight siblings.
With such a big family, it was difficult for his parents to raise their children in good conditions. Many times, the money Franz' father earned as a farmer just wasn't enough.
The community has changed and very few things remain as they were when Franz was young. Many people from the high plateaus have migrated to this city in central Bolivia.
Franz enjoys remembering the places he played, the things he did, and the school he attended. But he believes the most important part of his childhood was being in the Child Sponsorship Program.
"If there wouldn't have been Compassion, we wouldn't be attending a church. Thanks to all the principles established in our hearts, now it's difficult for me to change my beliefs and what I learned.

Since we were poor, at that time people traveled to Argentina to work and my parents were about to leave. So, when Compassion started, my parents decided to stay.

I'm sure my family would have broken apart. Everybody would be in different places. Compassion really changed our story."
Franz and his sister Doris were both sponsored, and the program was a great help to their family. Not only did they receive food, but also an education.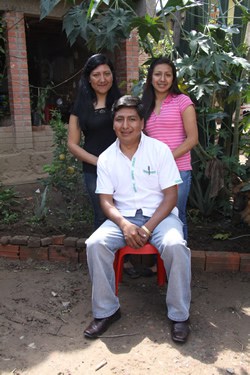 "The child development center was a great support. We had tutors and people who helped us with our homework.

They gave us food. Two of us ate there.

Sometimes I ate soup at the center and saved the main dish to take home to my other siblings.

Sometimes we really didn't have money or it wasn't enough for so many children."
The time Franz spent at the development center made an impact on him, and he gives great value to everything he learned.
In a house with so many children, he said his parents could provide little education.
He believes that in such difficult circumstances, parents can raise children but not educate them.
After some time at the child development center, Franz made outstanding strides. He served at the church, he was a good student, and he was a leader.
Franz had dreams, so he applied to the Leadership Development Program.
"Compassion pushed us to become professionals. My father used to say I would become a mechanic. He didn't even hope I could graduate from school."
One's circumstances do not always determine how much one can accomplish, however.
Accepted to the Leadership Development Program, Franz studied politics at the Public University of Cochabamba.
He graduated in 2005.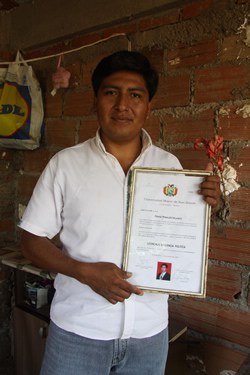 In 2006, Bolivia's president came into office and Franz started working in his cabinet.
"I believe God placed me there, and thanks to the Lord, I was there for three years.

People got to love me, they took care of me. It was hard work. I entered the Ministry of the Presidency (Cabinet Office).

We were in charge of the 327 municipalities, providing them technical support."
Franz believes luck doesn't exist for Christian people. Even though he was a newly graduated professional, God had special plans for him.
He got to be part of important events and decisions in the government during the time he was there.
On many occasions, however, he had to make difficult decisions involving the principles he had been taught. He was always seen as a good, responsible worker.
After that time, he worked in the Department of Public Works, hired by the German corporation GTZ to be the adviser in conflicts of the Minister of Public Works.
His job was to monitor conflicts from 17 companies the government worked with.
After the funds ended, he started to work in another area within the same department. He began working there in 2010 as an advisor, creating manuals and improving the administration. Then he became a full-time employee.
Another factor that played an important role in Franz's life was his sponsor. She sponsored him from the time he began the Child Sponsorship Program until he graduated from the Leadership Development Program.
Now, at age 31, Franz is very thankful to her for all the wonderful support she provided him.
"My family and I are very thankful to her and others who made this help possible and also to make it possible for Compassion to be here in Bolivia."
Two years ago, Franz had the opportunity to travel to the United States for an event with the United Nations. As soon as the event ended, he started to look for his sponsor by her name and other information. He knew she was a nurse and worked in a hospital.
"I thought it was going to be easy to find her, which was one of my goals when I traveled to her country. I really wanted to meet her and thank her.

I know I will have the opportunity to meet her one day and thank her for all her support personally."
Franz  believes that the ministry has great impact in the lives of children, especially the Leadership Development Program students.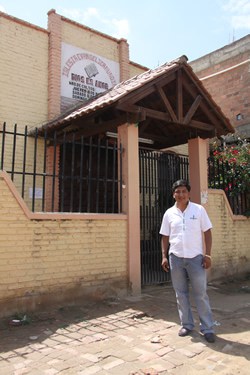 "The difference between a regular professional and an Leadership Development Program graduate is an education that also includes Christ-centered principles, leadership, social sensibility and self-improvement.

Not everyone receives that full education.

Only a few have the privilege to be part of the Leadership Development Program. I feel different and proud, not in a bad way.

I know other Leadership Development Program graduates who are doing really well.

They are good professionals and I am sure they are doing well thanks to the education, honesty, dedication, humbleness, values we learned in this program.

What manager wouldn't want a person like that among his personnel?"
Franz also believes that students educated through the Leadership Development Program have a debt, of sorts, to repay.
"Leadership Development Program students have to do the same. We receive to give, I received financially, emotionally, and spiritually, and I have to give back.

People from other countries, who didn't know us, helped us. We have to do the same. It is not a Christian principle to only receive."
---