From a Christian home at age 13, I made the statement that Christ was my Savior. It was a hollow declaration born from fear of damnation rather than an invitation of love.
Our Enemy concocts a special brand of lies that he feeds to children from Christian homes, lies that encourage statements without belief, actions without commitment, and acceptance of Christian doctrine without a relationship to our Savior.
I fell victim to a deception called "salvation" that bore no fruit, never hearing personal assurances like those found in Isaiah 43:1, "I have summoned you by name."
Thankfully, God did not give up on me. Five years later, I heard my personal "summons" while listening to a leader discuss Philippians 4. As he read verse 5, "Let your gentleness be evident to all. The Lord is near," my surroundings fell silent.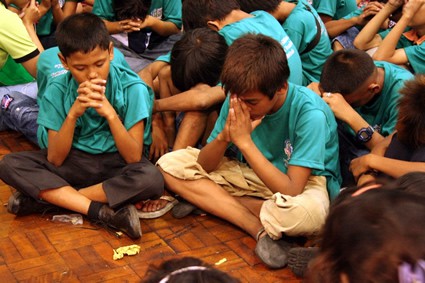 I repeated the verse in my head and thought, "My gentleness?" What gentleness? Do people see me as gentle, I wondered, or would they describe me as abrupt or even raw? What was my gentleness (or lack thereof) doing to my relationships? Was it pushing people away from God's intention?
It was one of those rare instances in which I felt momentarily aligned with God's greater vision.
This paradoxically comforting and challenging place is one I desperately seek to grasp and deeply desire for others to experience. A conviction washed over me: "I am supposed to be representing the Lord, and I'm doing a pretty poor job of it."
My attempts at control amounted to misdirection. My fruitless salvation was turning people away. Until that moment, I had missed the point: Acceptance of true salvation was a call to know Him and join Him. Quietly, I accepted Christ's call and understood that He wanted a relationship with me.
He has summoned us by name, He is near, and He wants us to represent Him with the gentleness found in His grace.
Let your gentleness be evident to all. The Lord is near. —Philippians 4:5, NIV
Prayer: Father, your call is to everyone. Please give us ears to hear your summons, eyes to see you standing with us, and strength to let our gentleness be evident to all.
---

ABOUT THE AUTHOR: Dean Sims serves as the Director of Technology Architecture and Governance at the Global Ministry Center in Colorado Springs, Colo.
Read all the One in Spirit devotionals.