Hello once again, friends! I can't believe it's already time to introduce you all to another member of our team. We've been going full force and we're gearing up for another busy few months.
The word is getting out about the Compassion Experience and the turn-out has been fantastic.
Part of what makes a successful tour is making sure all of the little details are taken care of. This is where Ashley comes in. She's our assistant tour manager.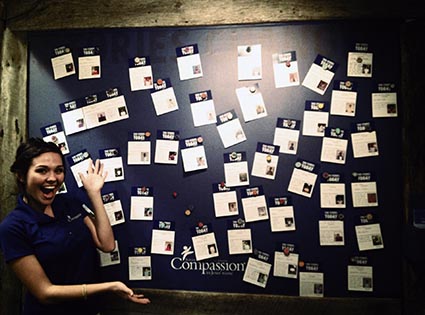 Often you'll see her greeting when you walk in, helping answer questions about sponsorship in the Impact Room, or giving you one final smile as you leave the experience.
Ashley is one of the most genuinely sweet people I have ever had the chance to know. She likes to share everything (and assumes you do too), and she's the first to stop us in the middle of something to pray for our day or someone in need.
Her heart is as big as the state she's from (Texas), and you'll feel like the most important person in the world when you're having a conversation with her.
She also has the most eclectic taste in food, ever. She's gotten us all addicted to eating mustard and potato chips. Ever tried it? You should.
My favorite thing about Ashley, though, is the depth of her love for the Lord and Compassion. She is passionately in love with Jesus and passionately fighting for those who can't fight for themselves. So here's a little bit more about Ashley.
Who are you?
I'm Ashley L. Cooper. I'm 22 which biblically means light. I love pickles. I've got a younger brother named Dillon who towers over me, and my sweet parents are Renee and Troy. Oh, we can't forget the dogs. Sweet angels. We have two of them.
Where are you from?
I'm from Burleson, Texas. It's a small town south of Dallas.
Most people from Texas really love Texas. What's your favorite thing about it?
Well, it's always sunny and you can always find a good steak. What more do you need?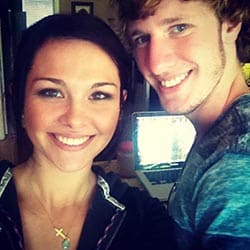 Are you married?
Not yet! I'm engaged and we're planning a 2013 wedding. His name is Taylor and he tours with us as well.
What is your life motto?
"Today is today. Yesterday was yesterday."
What is your favorite Scripture verse?
"Ask and it will be given to you; seek and you will find; knock and the door will be opened to you. For everyone who asks receives; the one who seeks finds; and to the one who knocks, the door will be opened." – Matthew 7:7

What is your favorite food?
Anything Mexican. Or pickles.
If you weren't on the Compassion Experience Tour, what would you be doing?
I'd be a Disney princess!
What's your favorite moment from the Compassion Experience Tour so far?
Definitely when I sponsored my first child. I wanted to sponsor for quite a while and kept waiting. I finally did it while we were on tour, and it's incredible. I believe as a follower of Christ, it's my privilege and responsibility to care for those in need and speak up for those who can't speak up for themselves.
I want my life to make an impact, and I believe I can do that in this one child's life. Also, I've always really wanted to adopt a little boy from Africa, so this may be as close as I'll get for now.
What are your responsibilities on tour?
I primarily work with Compassion volunteers and church volunteers who help us in every city. I train them and organize what the day looks like for them.
I also work with the inventory we manage on tour. Everything from child packets to batteries to the gifts you get as you walk out – those pieces are my responsibility to organize. In addition to that, I assist our awesome tour manager, Erica.
---
Ashley is one incredible young woman. I love getting to know her, and I'm going to add that part of her responsibility is to keep us all smiling. She has this crazy way of knowing how to get us all to laugh or cheer us up when we're having a hard day. It's a joy to get to travel with her.
I can't believe how fast this tour is going and how excited I am for the cities we've got coming up. It's going to be a really fun few months, and I hope you're able to come see us.