Chilibulo is a parish located in the southern zone of Quito, the capital city of Ecuador. This area doesn't have much economically because jobs are scarce. A walk along Chilibulo's dusty and poorly paved streets highlights the lack of progress.
On the sides of the streets there are little houses made of bricks and cement. Some of the homes are not fully constructed and others are old; the colors of their walls have long faded. Many families live here because they have unsteady jobs with low salaries. Most of them are informal merchants or bricklayers.
Chilibulo is also considered a "ghetto zone" due to area gangs and the high rates of delinquency.
This is the place where Mario and his wife, Martha, brought two children into the world.
Mario and Martha are each 28 years old now, but they look years older because of the wrinkles on their faces — indicators of past struggles. For many years they did not have happy and fulfilled lives; they've struggled against poverty since they were teenagers.
Mario fought the lack of attention from his parents with vices like alcohol and drug addiction. He grew up with a father who not only became an "example" of such vices, but also made a living out of stealing and committing criminal acts. Mario started using cocaine when he was 13.
Although he moved out with Martha when he was 16, he didn't leave his vices or delinquent habits behind. On the contrary, he turned Martha into his accomplice.
In fact, the people from Chilibulo knew Mario, his father and his siblings as the infamous Los Plomos (The Leads) because they used to drink a lot and scare their victims with knives to steal their belongings. Los Plomos terrified the inhabitants of Chilibulo for a very long time.
Mario and Martha had their first child and named him Javier. Little Melany was born about five years later. However, the arrival of the children didn't make the parents change their lifestyle at all.
It was common to see Mario and Martha exposing their small children to public embarrassment, rude conversations and unproductive habits at el relleno (the dump), the meeting place for the neighborhood's beggars, alcoholics and drug addicts.
Little by little, the dump became the home of this family. It was a dirty place full of garbage and homeless dogs. Mario and Martha used to go there to drink. They didn't eat or work; they just drank and didn't care for anything else. They only left the dump to find a victim and get "easy money" to buy more alcohol and marijuana.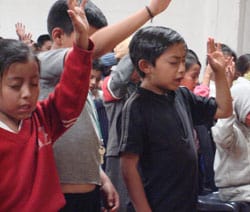 That's the environment Javier grew up in, surrounded by parents, uncles and a grandfather who were caught up in a deplorable lifestyle, full of misery and absent of hope.
Comunidad Cristiana Plenitud de Vida (Life's Plenitude Christian Community) Church has worked in Chilibulo Parish for almost five years. But the church established its partnership with Compassion in 2007.
When Comunidad Cristiana Plenitud de Vida began working with Compassion, the church staff worked very hard to visit every house in the community to encourage parents to register their children in the child sponsorship program.
A program flyer reached the house of Javier's grandma, who was interested in the program and motivated Martha to register her son. Until that moment, nobody imagined that God was starting to move the pieces necessary to fulfill His salvation plan for this family.
The first meetings at the center were an adventure for Javier.
Before joining the program, he had never heard stories of normal people fighting against giants, like David, or stories of men in a den surrounded by lions that didn't attack, like Daniel. And he had never heard or felt that someone loved him and cared for him; that's what made the biggest impact on him.
Javier hadn't experienced the love of a father or a mother because his parents did nothing but neglect him day after day. The only images that he had of his parents were their vices and the way they mistreated him.
At the child development center Javier learned his life is important, that God created him, and that God had a special purpose for him and for his parents. He decided to accept Jesus, who promised him a better life, a life full of joy and hope … an eternal life.
At age 7, Javier started to feel a special passion for telling his parents about Christ. He prayed for them, asking for a radical change in their lives. He even mustered the courage to confront them about their sins and offer them healing and hope through Jesus.
Javier truly suffered because he didn't want his parents to remain lost. When his father got drunk, Javier approached him with phrases like, "Daddy, please make a change … stop drinking or you will end up in Hell." As Martha listened to her son's words, she silently asked to herself, "Where is this life going to take us?"
His eyes didn't see any progress, but Javier kept on clinging to His loving God, who rescued him from a hostile and destructive environment. He believed the Lord could transform the lives of his parents … and God soon did just that.
Javier's father became very ill after drinking for three days in a row during the neighborhood's festivities. He was so sick that no medication could keep him from vomiting and a rising fever. However, that precise moment was crucial to little Javier, who put his faith in action.
Javier was sure that he had the cure for his father and so he insisted once again, "Daddy, you should accept Jesus in your heart … He will save you and heal you from this illness."
Mario couldn't believe it and broke down because it was hard for him to admit that a little 8-year-old child was confronting him and encouraging him to take a different turn and to avoid self-destruction.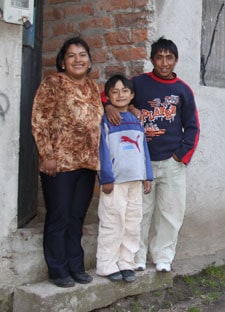 Through his son, Mario felt Jesus' infinite love for the first time and he decided to accept Christ within his heart. Guided by Javier, the little evangelist, Mario fully opened his heart to God while his son prayed,
"Thank you Lord … please bless us! I ask you to heal my dad … take him as your son, for he won't do bad things anymore."
It didn't take long for Mario and Martha to decide to go to church with their son, but they felt ashamed for the clothes they were wearing. Martha told Javier to ask if they could go in their worn out, not fancy and a bit dirty clothes.
"Baby, you should ask if they would accept us at church like this because we don't have any good clothes."
Javier did what his mother asked and when he came back, he said with a smile on his face,
"Yes, Mommy! Sister Verónica said that you could go to church with any clothes because God accepts us just the way we are."
Mario and Martha thought they would be rejected by the congregation because of their past and their poverty. In fact, they believed God only liked rich people. But Javier had experienced God's great love and he knew the church would turn into a haven for his parents.
And that was exactly what happened.
Comunidad Cristiana Plenitud de Vida became the spiritual home of Mario and his family, including his siblings and their spouses. They immediately joined a group to study the Bible, and they still faithfully attend the church's services every Wednesday and Sunday, as well as the prayer services on Fridays.
Mario and Martha cry every time they think about the hole that God rescued them from and how He has transformed their lives.
"Our home was absolutely shattered; everything we sowed was leading us to harvest nothing but garbage. Now we are thankful to God for finding us and rescuing us from that kind of life."
Today, Mario and his family are a living testimony of God's transforming power. Los Plomos, who terrified everybody in Chilibulo, are now respected by those who feared them.
Many people are astonished by the positive change and they almost can't believe it. But everybody has reached one conclusion: There's a God and that God changed Mario and Martha.
Mario and Martha are deeply grateful to God and now their only purpose is to please Him at all times.
In addition to quitting alcohol, marijuana and stealing, they are working honestly, helping people to park their cars along one of the Quito city streets.
They also decided to stop just living together and get married. After more than 10 years of cohabitation, they wanted to start a new life through a blessed marriage. The pastor of Comunidad Cristiana Plenitud de Vida presided over their wedding in December 2009.
Now Javier's family has a fulfilled and joyful life and it's all thanks to God's intervention through Javier.
"My life is different now and I'm thankful to Jesus for changing everything."