UPDATED: Mar. 6, 2010 – This downloadable PDF lists all the child development centers in Haiti and categorizes each center as: not directly affected, moderately affected or significantly affected.
Six child development centers and one child survival program previously designated as not directly affected have recently reported several children and siblings of sponsored children as having been injured in the earthquake. They have also reported many houses that were damaged.
These centers are now considered moderately affected.
HA-260
HA-272 and HACS19
HA-602
HA-670
HA-796
HA-811
---
A significantly affected child development center:
is located within the official "impact zone" as defined by the United Nations and Haitian government
has reported deaths or injuries to children
has reported significant damage to the church or other facilities
has reported significant damage to children's homes, with many homes destroyed
A moderately affected child development center:
is located outside the official "impact zone"
has not reported any child deaths
has reported only a few injuries to children
has minor damage to the church or other facilities
only reports damage to some children's homes
Child development centers listed as not directly affected are located outside of the official "impact zone" and have not reported any deaths or serious injuries to children or damage to any church facilities or children's homes.
The PDF does not detail how each child, leadership student or baby and caregiver we serve has been specifically affected. In most cases, we don't have that information yet, and getting specific information about each of the 65,000 children we serve will take us time to obtain and report.
In the significantly affected areas we are searching diligently through the "tent cities" around Port-au-Prince to determine the condition of your children. The only way to do this is through a grassroots, tent-to-tent approach. The process is slow, deliberate and difficult, but it is moving ahead steadily.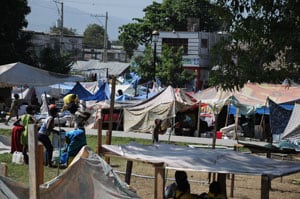 Our church partners in the outlying areas are sending people to our supply stations to pick up needed supplies as well as report on the condition of their facilities, their staff and their sponsored children.
With these circumstances in mind, please be aware that at this time we cannot categorically say that all children in the "unaffected" centers are unaffected. The probability is high, but there are situations, such as travel, where a child or student may have been in the "impact zone."
We will update the PDF as we get more information, but we will not report specific child information via the Internet.
If your child was affected by the earthquake, we will contact you directly. Even if your child wasn't directly affected, you will be contacted, although the timing may be slower and the method may be different.
Accuracy in what we report is vital. As we receive information about specific children, we need to verify that it is correct. This fact-checking means that getting the information to you takes longer, but we are doing everything we can to get it to you as quickly as possible.
Many people have asked, "If it turns out my sponsored child is alive but orphaned, what can we do about adoption? Who can we contact?"
We cannot assist in the adoption of these children. However, if you are interested in adopting a Haitian orphan we can recommend Bethany Christian Services, as an adoption agency working to help the children of Haiti.
---
We continue to publish more complete updates about our response to the Haiti earthquake on our Haiti Earthquakes Updates blog post.