HIV/AIDS remains one of the world's most significant public health challenges, particularly in low and middle-income countries.
The World Health Organization reports that the African region is the most affected, where 1.8 million people acquired the virus in 2009 alone.
This means African nations must intensify their campaign against the disease, and Ghana is no exception. As part of the activities to mark this year's World AIDS Day, we launched a three-month HIV/AIDS education and awareness campaign in Mankessim.
The campaign is designed to reach as many people as possible with the message of "Getting To Zero," the international theme for 2012.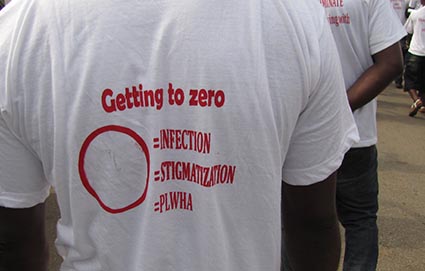 The Kormantse Central and Mankessim Ebenezer Child Development Centers teamed up to conduct HIV/AIDS education for caregivers and children. They also targeted three senior high schools in the Mfantseman Municipality.
Their campaign will educate 465 registered children, 511 caregivers and 7,200 high school students about the meaning of HIV/AIDS and its causes and prevention, as well as how to care for those who are infected.
Issues emphasized in the awareness campaign include marginalization, discrimination and stigmatization.
Help Families Affected BY COVID-19
Families in poverty have no safety net in times of crisis. Help provide food, medical care and support during this pandemic.
The first part of the campaign featured a procession through the streets of Mankessim. Some 1,300 participants wore T-shirts bearing HIV/AIDS awareness inscriptions.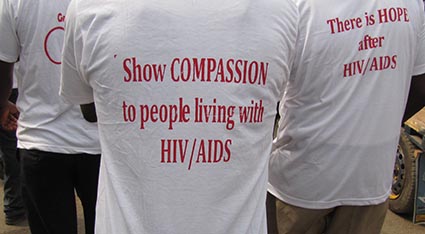 The procession included a brass band and dancing. Participants also distributed flyers and wristbands with information about HIV/AIDS.
For the second part of the program various dignitaries addressed the gathering, and children from the two host development centers thrilled the audience with drama, poem recitals and singing.
The queen mother of Mankessim's traditional area and her entourage also graced the occasion with their presence. Speeches were presented by our Country Director, Padmore Baffour Agyapong, the Municipal HIV/AIDS focal person, the HIV/AIDS focal person from Mfantseman Municipal Hospital and the queen mother.
Padmore emphasized that targeting children and teens represents a sustained effort to reduce HIV infection.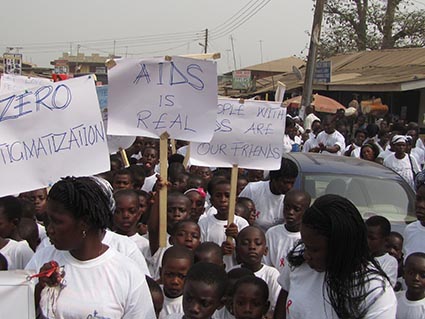 He made three important recommendations as benchmarks in the fight against HIV/AIDS and its antecedent issues: intensification of HIV/AIDS studies in school curriculum, adoption of youth-friendly healthcare services by the Ministry of Health and increased public health campaigns to reach a large proportion of young people.
Caregivers were asked to get tested and told not to despair if they are HIV-positive, but to visit clinics for antiretroviral therapy drugs. We cover the cost of the drugs.
HIV cases in this region of Ghana reveal an increasing trend from 229 in 2008, to 320 in 2009, to 337 in 2010 and currently 393 in 2011.
Key factors leading to this high incidence include lack of income-generating enterprises, broken family structure and attitudes and behavior. Additionally, very few infected individuals are receiving antiretroviral therapy.
Though the new campaign has just been set in motion, about half the community has already been enlightened about HIV/AIDS and its related issues.
Many in the community have been made aware of how we support the fight against HIV/AIDS and, most importantly, about the support offered to children and caregivers living with HIV/AIDS.
One participant shares,
"I do not have a child in Compassion, but I have heard about the things that Compassion has been doing for children.

I never knew that the parents also benefit directly from Compassion. All the things I heard here today make me really envy the families with Compassion. I am praying that some day one of my four children would become part of Compassion, too."
And another participant tells us,
"I am very happy to have been here today. I have heard so many things about HIV/AIDS that I did not know before. Today I have learned that being HIV-positive does not mean death.

I am thankful for Compassion coming to do this work here today. From today I shall keep my ears open. Anytime I hear that the Compassion people are doing something somewhere, I shall make sure to be there, because I am sure to learn something new."
Finally, one HIV-positive mother, whose child is registered with our program wants us to know,
"I have been so touched by what happened here. I now know that I am not alone. I also know that other people care about those of us with HIV. If more organizations would do what Compassion has done today, people with HIV would not hide."
---