Two of the most important elements of childhood education are the development of a curriculum that focuses on the four areas inherent in each human being — spiritual, physical, social-emotional and cognitive — and the people who teach the curriculum.
In Colombia, Compassion has interactive workbooks designed especially for students and teachers, which when accompanied by tutor training, help develop comprehensive skills in children according to their age group.
The spiritual element, the first and most significant, establishes the importance of having a relationship with Jesus Christ based on the importance of knowing Him as Creator, Father and Savior. Every child is taught to memorize verses from the Bible, and analyze and reflect on God's Word.
In the physical area, children receive valuable information about their bodies, such as the importance of taking care of themselves, personal hygiene lessons, and other issues basic to tackling the problems they face every day.
Third is the social-emotional area, through which children learn about relationships with others and with themselves. In many cases, this area strengthens the personality and characteristics of children who have been raised in contexts where they have been regarded with no value. In most cases they have been taught false ideas about who they are and what they can dream or plan for the future.
Finally, the cognitive element develops and reinforces skills that are essential to the children's knowledge development as students and future professionals.
Children and families participate in different activities that support development in all four areas, such as discipleship, parents' workshops, food, medical checkups, school reinforcements and psychological assistance.
This strategy responds to the needs that vulnerable children have, with the objective of helping them to become the men and women society needs.
Our curriculum is not only based on teaching strategies, it is a Christ-centered material so the children learn to live out values and principles of the kingdom of Heaven.
In 2000, Compassion Colombia began the curriculum construction process. The project was developed thanks to the work of various interdisciplinary teams attended by professionals and staff committed to vulnerable children.
Martha Polo, the country curriculum specialist says,
"The authors of this material are men and women who were released from poverty and for this reason know the contexts in which children live in poverty."
During the time of preparing the materials, various versions and drafts were developed and sent one by one to various child development centers in different areas of the country in order to be reviewed. Feedback from the centers was essential in creating a curriculum relevant to the day-to-day reality of the children.
The curriculum material is intended to show a God who releases and heals. The main question it needed to answer was how to show a God of love to those children living in an environment of indifference.
With that goal in mind, they took biblical characters that grew up in contexts of indifference and showed them as examples.
The material consists of 49 texts distributed to the following age groups: 3 to 5 years, 6 to 8 years, 9 to 11 years, 12 to 14 years and 15 to 17 years.
This curriculum is implemented in all the child development centers in Colombia, which means that nearly 52,000 lives are affected by each one of the lessons.
Behind that significant figure hides a shy face, a brave woman who gives her life for those in need, who kneels down to hear and embrace those who have become her passion.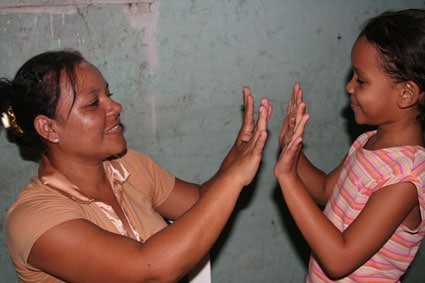 A woman who exemplifies perseverance and who has opened her heart for the hundreds of children who attend Esperanza de Vida Child Development Center.
Located in the San Fernando community, this center serves a vulnerable population with limited access to basic water and sanitation. Most of these children live in shared houses with cousins, uncles, brothers, grandparents and other relatives.
This is where Silena has served for years, in the middle of a room adorned with colorful crafts and drawings she has created. She is recognized by her smile and her face displays joy when she plays with the children and makes a special connection with them. Silena has committed her life to the story of each one of the children in her group.
From Monday to Saturday, Silena gets up early, gets ready and leaves her own children at school.
Meanwhile, she goes to the development center where she works as a tutor for the group of children between 6 and 8 years old.
Thanks to her commitment, patience and love, Silena has established close ties to the families, letting her have a deeper knowledge of the context in which they live.
"Many people do not understand why children act in one way or another. They ignore the reality that is behind them and that determines most of their actions."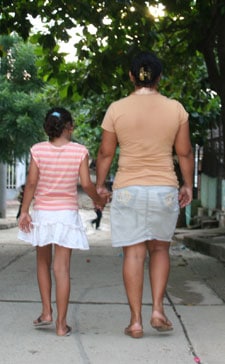 Proximity to her students allows her to be the hands of God, transforming many young lives, in particular María Alejandra — a shy girl who found in her tutor's lessons the importance of understanding her value as a beloved creation of God.
María Alejandra's father abandoned her when she was little and her mother left her under her grandmother's care. María Alejandra and her siblings grew up in a small house surrounded by poverty, subsisting thanks to the charity of neighbors and church members who helped her grandmother who can't work any longer.
María Alejandra built a close relationship with Silena, and one day after she had spent holiday vacations with her mother and stepfather, María Alejandra reported a worrying abuse situation.
The tools she had acquired, the basis of her values, and the trust that she had built with Silena allowed her to talk about her family problems.
Now María Alejandra is under the special care of her tutor, receiving additional support in the areas she needs and even when her grandmother needs to leave the city for a few days she and her siblings stay under the care of Silena who has become, as María Alejandra expresses, "her aunt."
María Alejandra is now far away from the risks and has special support so that she can continue living her childhood as she deserves. Now she is able to dream about becoming a missionary.