One of the ways that the Child Survival Program empowers mothers is by offering literacy and economic training to help them better provide for their families.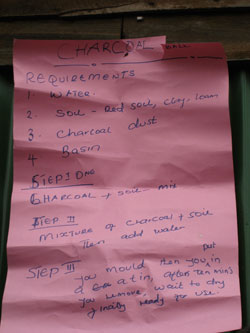 Jackline is a mom at the Kawangware Child Survival Program which is part of the Kawangare Child Development Center.
The economic training she received taught her to make charcoal from charcoal dust and dirt and then use the charcoal to roast corn to sell on the side of the road.
Roasting the corn allows Jackline to make about $1 a day to feed her two children, including 14-month old Flavian.
We visited the Kawangware Child Survival Program today, met Jackline and watched her demonstrate the skill that helps her provide for her children.
You can also view the income generating activity video on Vimeo.
We also met Caroline, another mom in the program. She was excited to show us the income generating activity she was taught. You can read Caroline's story on Brad Ruggles blog – Learning How to Live.
---

Support a Child Survival Program for $20 a month and you can help empower moms like Jackline and Caroline.