Early in the morning of June 11, after months of heavy precipitation, the Cedar River poured into the streets of Cedar Rapids, Iowa. The water quickly swallowed the city.
1,300 city blocks disappeared.
24,000 people were evacuated.
83 of Iowa's 99 counties were declared disaster areas.
Nearly every river in Iowa flooded that week.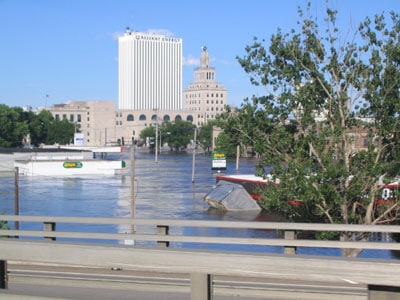 As
I
watched the floodwaters rise, my 4-year-old turned to me and said, "Mama, I think we need to get on the ark!" Had there been an ark in the vicinity, I may very well have gotten on it.
In the end, we Iowans are going to be just fine. The prayers of the nation have been with us, and we thank everyone for that. Help has arrived from all corners — from churches to government agencies. So many people have mobilized to get us back on our feet. We know it will be a slow process but, as a community whose roots are in farming, we have learned to be patient — patient with the growth of our crops, patient with the regrowth of our city.
But the impact of the floods on the world community is yet to come.
Iowa is the number one producer of corn and soybeans in the United States. It is estimated that 1.3 million acres of corn and 2 million acres of soybeans — roughly 16 percent of our grain crops were destroyed. (1) And this disaster is just one of many that decimated global crops in 2008.
So how does this impact the global food supply? In a nutshell, it means higher prices and a shrinking supply of food.
For countries in the developing world, this is a cataclysmic combination. In regions where people are already spending 80 percent of their salaries on food, the prices are going to get higher.
Help Families Affected BY COVID-19
Families in poverty have no safety net in times of crisis. Help provide food, medical care and support during this pandemic.
If 100 percent of a family's income goes toward food, how then do they afford clothing, shelter, medical care and an education for their children?
And when the price of food eclipses what a family is able to earn, who in the family goes without? Parents, grandparents, children? How does one make such a decision?
As Thornton Wilder, the author of Our Town, once said: "I know that every good and excellent thing in the world stands moment by moment on the razor-edge of danger and must be fought for…."
We must stand together in the fight against poverty and hunger.
If you have a heart for flood victims, consider sponsoring a child in Haiti, Mexico, Bangladesh or Indonesia. These are countries that experience regular flooding, often with much loss of life, and an infrastructure that makes it difficult for families to recover.
You may also consider a donation to the Disaster Relief Fund. In the event of a natural disaster, Compassion provides food, blankets, shelter and replacement belongings to children and their families.
Please do what you can.
---
(1) Iowa State Farm Bureau