Is it safe to challenge the status quo? No. It's not. Post completed.
Challenge is an aggressive word. It suggests victory … or loss. It implies a struggle and change, possibly forced change. Change creates uncertainty for people. And uncertainty breeds worry and fear.
Asking people questions about what they believe and why they believe it is challenging. It's often deemed unacceptable. People feel threatened and get defensive. It's uncomfortable. Should we do it? Yes.
Critical thinking strengthens convictions and reveals the weakness in purely emotional responses. Emotion is not bad. It is also powerful. But it varies in intensity and can waver altogether. Conviction is a rock.
Should we challenge the status quo? Should we challenge the established way of thinking or doing things? Absolutely.
Jesus did. He challenged people's idea of the Messiah. And He continues to challenge us to change our normal.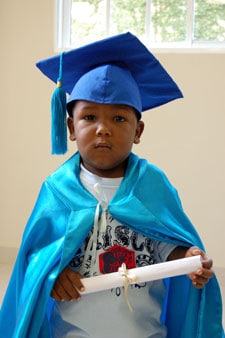 But what happens when I run into the rock of someone else's conviction? Good things happen. Bad things happen. Anything is possible. I could affect change or I could get hurt — emotionally, financially, even physically.
Help Families Affected BY COVID-19
Families in poverty have no safety net in times of crisis. Help provide food, medical care and support during this pandemic.
When it comes to poverty, the established way of thinking for children in poverty — "I don't matter" — is filled with hopelessness. The established way of thinking in poverty is a lie.
But Compassion's work challenges this. Our sponsorship challenges this. With our sponsorship we're telling our children to "think differently." Believe. Hope.
Changing how I think changes how I act. And changing how I think is difficult. It's not usually quick. It requires perseverance and commitment, which often seem in short supply when habit and convenience are present.
I value safety and comfort a great deal. They're warm and cozy. But it wasn't warm and cozy on the cross.
Challenging our status quo is required if we're to grow.
"Is not this the kind of fasting I have chosen: to loose the chains of injustice and untie the cords of the yoke, to set the oppressed free and break every yoke?" — Isaiah 58:6 (NIV)