Our Timoteo Student Center serves 311 children who live in the city of Cobán. Cobán is one of Guatemala's major cities, located 219 km (316 miles) from Guatemala City. It is rapidly developing due to its location at the center of a coffee-growing area.
Cobán is beautiful city, but plagued by major issues like extreme poverty, alcoholism and drug trafficking. Poverty is rampant in Cobán, with 61 percent of its population living in poverty and 26 percent in extreme poverty. Lack of education and job opportunities, large families and high-priced food are just some of the reasons for the poverty in Cobán.
Poverty also triggers problems like alcoholism. Often, fathers turn to alcohol in order to forget their misery. They do not realize that the alcohol only creates a bigger problem, since they use what little money they have to buy alcohol.
Drug trafficking in Cobán has been growing strongly for the past six years. The town is used as a stop for people trafficking drugs to Mexico. Drug lords have taken advantage of the poverty and tremendous need, offering job opportunities to young people. The drug lords pay them well, which makes drug trafficking very appealing for impoverished young people.
Cobán is not an easy place to live as a child. Nineteen-year-old Jorge knows this all too well.
Jorge lives in El Barrio San Jorge in a one-room house made of wood, with a dirt floor and tin sheets as a roof. Jorge is the oldest of six children. His family of eight lives in this room and shares the only three beds they own. Their beds are made of wood and lack mattresses.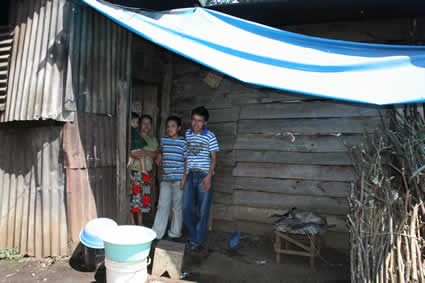 Jorge attended the Timoteo Student Center. This Compassion-assisted center seeks to eradicate the high index of spiritual, economical, social and physical poverty in the lives of boys and girls. Their vision focuses on fighting against the issues that are affecting the children in Cobán.
It is thanks to our help and the student center that Jorge has developed holistically into a strong and courageous young man in spite of his circumstances.
A Great Achievement
In October 2010, Jorge graduated from high school. His high school diploma included a graphic design certificate. Jorge is the first one in his family to continue past the seventh grade and the first one to graduate from high school. No one in his family, not even his extended family, has ever graduated from high school.
Even though high school graduation is a great achievement, Jorge is pursuing a greater dream. He wants to attend college. Our ministry has inspired him to dream big and work hard for his dreams. He wants a business administration degree and is doing everything he can to attend college.
Jorge is a very determined young man who thrives even in a difficult environment. Even though he was the first in his family to graduate from high school, his family does not support his idea of going to college.
His father often tells him that school is for lazy people, people who do not want to work. His mother is also skeptical about his education. Due to their financial situation her response to his dream is,
"I cannot support you because I have no money."
Education is not taken seriously in Jorge's home, which is why two of his four siblings who can attend school have already dropped out. Jorge supports his two younger brothers who remain in school, and he reminds them of the importance of education.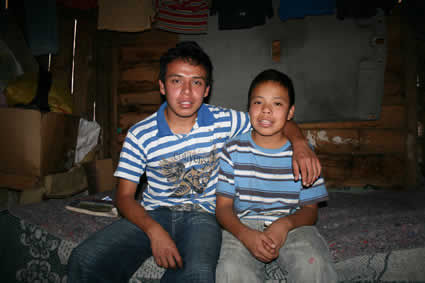 "The only way to get a better-paid job and end poverty is by being well prepared with education."
Jorge says that a long-term commitment like getting a college education will improve their lives better than any short-term action like getting a job right now.
Jorge applied for the Leadership Development Program, made it all the way to the semifinal group and participated in the Academy. The Academy is a two-week program where we choose the Leadership Development Program beneficiaries.
The Academy also teaches the attendees studying methods, learning methods, how to organize time and about self-esteem, among other topics that will be useful for college. Jorge was very close but did not make it into the program. But he is already planning to apply again.
Nonetheless, thanks to our support during his high school education, Jorge is going to start working at a computer and internet shop this year. His "plan B" is to save as much as he can in order to attend college later this year. He is determined to go to school.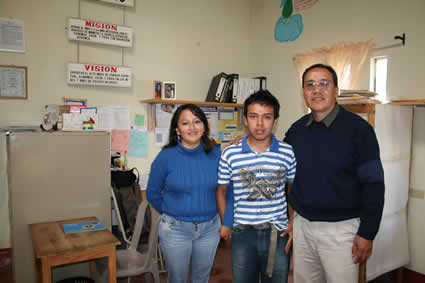 Jorge has not only developed his cognitive skills, but he has also grown spiritually in a very distinct way. Center Director Carlos mentions Jorge's spiritual growth as one of the biggest changes he has seen in Jorge since the young man arrived at the student center.
"Jorge is an earnest Christian. He has grown a lot in our Lord's Word. Some time ago I learned that he led one of his friends to Christ."
Jorge explains that the biggest gift this ministry has ever given him is the opportunity to know Christ.
"I was 12 years old when I accepted Jesus Christ as my Savior, here at the student center."
Ever since then, Jorge has wholeheartedly learned more of God's Word. He has fought for what he believes. There have been times when his dad would not allow him to attend church, but during those times Jorge knew he would still learn more about God at the center.
Jorge says that he has noticed how attending the student center has helped him be a better person. He sees how he is more responsible and that he has learned to control his temper. He knows how to manage his anger or frustration in a better way.
Jorge has overcome many hardships. His family belongs to the 26 percent of the population that lives in extreme poverty in Cobán. His dad used to have a tapestry shop, but he sold all his tools one night when he needed money to buy alcohol.
Jorge's father is an alcoholic, which has only worsened the financial situation at his house. On top of that, his father has a strong temper and often fights with Jorge's mother. There have been several divorce attempts. Jorge worries all the time because he does not want to choose between living with his mother or with his father.
Even though life has been rough, the Lord has provided Jorge with different blessings, one of them being Compassion's Child Sponsorship Program, which has empowered him to dream big and has equipped him with the tools to pursue his dream.
God has also provided him with a sponsor who has been corresponding with him for the last 10 years. God has spoken into Jorge's life through his sponsor, Alaina Blamchard.
"She tells me to keep on going in her letters!"
Thanks to support from his sponsor and our ministry, Jorge has learned to be strong and courageous in life and in pursuing his dreams. He is and will be successful in his life.