I will never forget my first visit to one of our centers. That day I was very sad because a friend had passed away, and I was going through a very difficult period in my life. When I got to the child development center, I pulled out my best smile and gave a very warm greeting to all the children.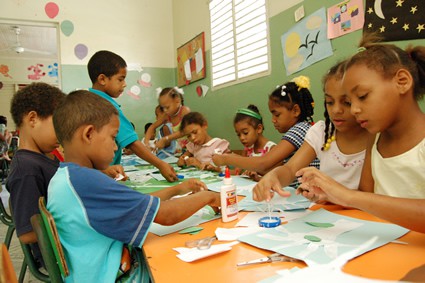 Before the children left, one of them, only 9 years old, came into the office where I was and gave me a folded sheet. "I did it for you," he said with a big smile on his face.
I opened it and saw a beautiful picture of a colorful bird trying to drink nectar from a flower. The following words were printed: "Never sad, always happy, peace is here, smile. With love, Randy."
Since that day almost four years ago, every time I see this picture I thank God for the life of Randy. His words have been of great encouragement to me in moments when grief has touched my life.
He not only saw my sadness behind a seeming smile, but he did something to try to change it. He didn't care that I was a stranger. He felt no fear that I might reject it. He did not even care about paying attention to class so that he could do my drawing. He just knew he wanted to brighten my life, and nothing prevented him from doing so.
It was not for nothing that Jesus used the example of children to show the spiritual receptivity needed to enter His kingdom. Children are docile, sensitive, simple. They believe in everybody. These are qualities that are often swamped by selfishness, indifference, and comfort in us adults. We need to be kids again.
But Jesus called the children to him and said, 'Let the little children come to me, and do not hinder them, for the kingdom of God belongs to such as these. I tell you the truth, anyone who will not receive the kingdom of God like a little child will never enter it.' — Luke 18:16–17, NIV
Prayer: Lord, give us a sensitive heart to see beyond the apparent smile from those around us. Amen.
---

ABOUT THE AUTHOR: Lucy Vasquez is Partnership Facilitator and Team Lead in our Dominican Republic office.
Read all the One in Spirit devotionals.