It amazes me how often God uses the "least of these" among us to teach us valuable life lessons. Having worked here for a little more than four months, I have already experienced this phenomenon many times, as the children we serve "speak" to me about things such as hope, faith, love and trust.
Last week, they spoke to me again from a place where you wouldn't expect to find much of anything at all except despair, doubt, hatred and cynicism.
The place is Kibera, a slum in Nairobi, Kenya. It was this largest of African slums that many Compassion-assisted children witnessed firsthand the worst that human nature has to offer.
Shortly after Kenya's incumbent President Mwai Kibaki was declared the winner of the presidential election held on December 27, 2007, ethnic violence surged throughout the capital city of Nairobi, affecting some of the poorest areas the most.
The violence lasted through February 2008, leaving as many as 800 to 1,500 dead and another 180,000 to 250,000 displaced. The children witnessed firsthand the murderous rampage that also led to the destruction of their homes, schools and churches.
Shortly after the violence broke out, Barrack Okal, an employee at Compassion who was born in Kenya, visited the children at Legacy Christian Academy in Castle Rock, Colorado.
The children, who were learning about Kenya, were told about the terrible violence in that country and asked to write to the Compassion-assisted children living in Kibera.
On the day Barrack picked up the children's letters, each child took turns praying for the kids in the child development centers who were affected by the violence.
The day after they prayed, the violence ended.
Last week, I went with Barrack to present to the children of Legacy Christian Academy the letters that the children in Kibera sent back to them.
The letters were moving. The Kenyan children portrayed the violence they saw, but then immediately followed up the horrid descriptions with words of thanks and hope.
For example, one letter said:
Dear friend,

My name is Duncan. I live in Kibera, and it is in Kenya.

In my country Kenya some few months ago, there was violence, and we were not safe because some people were looting. Tribes were fighting against tribes. Some people burnt houses for people and there was no peace all over Kenya.

But thank you for praying for me, and now I'm safe. There are no clashes anywhere in my country. Our desks were burnt and we don't have desks to sit in class.

From your friend,

Duncan
At the bottom of this letter, the amazing hope and faith these children have in their Savior was illustrated with a picture of a double heart depicting the colors of the Kenyan flag. Inside the image it said, "God loves Kenya."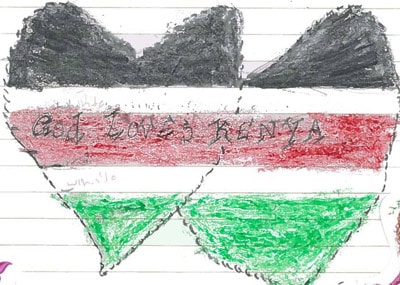 In another letter, one of the Kenyan children wanted to encourage Christian brothers and sisters in America that God would always be with them.
Dear friend Jean,

How are you? I hope that you are fine. My name is called Dephny. I'm in class seven, and I am doing well. What about you? I also hope that you are doing well in school.

God will always be with you all the time if you believe in him and obey his commands. I thank God because we were not injured during the past election violence. I will be praying for you every day and I am glad to write to you this letter.

Here I have a memory verse for you: "'I am the first and the last,' says the Lord Almighty who is, who was, and who is to come." Revelation 1:8

Your best friend,

Dephny
These stories and others like these have helped me gain perspective on my life.
First of all, God has richly poured out His blessings on me and my family.
I am fortunate to live in a country that, while not perfect, affords me freedom and opportunity to do things that people in most countries can only dream about.
I can worship God how I please. I can go to grocery stores full of food. The home I live in has a roof and glass windows. My children are free from disease, and if they or someone else in my family get sick, access to quality health care is readily available. My list of blessings go on and on.
Second, I all too often take God's calling on my life for granted.
I measure my happiness based on my circumstances rather than my calling. These children are happy despite their circumstances. They are happy because they know God and because they are known by God. How else can we become truly fulfilled?
Third, I often put hope and trust in things that get old and fall apart. (I'm referring to inanimate objects as well as our physical bodies.)
For these children in Kenya, everything around them may be falling apart, and yet they are full of hope as they put their trust in the one thing that was the same yesterday as it is today and as it will be tomorrow – their Lord and Savior.
What valuable lessons to learn from the "least of these."
As the letters were being read to the children of Legacy Christian Academy, I noticed that all the children, even the kindergartners, were glued to their seats attentively listening. They didn't want to miss a single word of what these amazing children overseas had to say.
Neither did I.