Received from Scott Todd, our Senior Ministry Advisor, who is leading our medical team in Port-au-Prince.
---
Back at my sloping desk in the parking lot with my chair tottering over the pothole.
In some ways today (Jan. 28) was the most exhausting. Mainly the heat in our "clinic." Once again, under tarps despite a respectable-looking church right next to us.
Our team used the church for sorting meds and eating lunch, and I hope that our occupying it might encourage the people to overcome the fear that the earth may shake it down at any moment.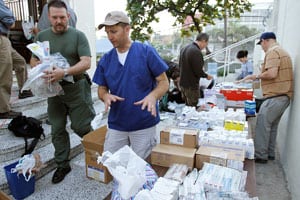 Treated over 100 people again today, but the conditions generally seem less severe in the city, where people are getting access to health services.
The story that will most trouble me as I try to sleep in the parking lot again tonight is the two very young children (approximately 2 and 3 years old) whose parents both died in the quake.
These young children are registered in our Child Survival Program. Their aunt came to take them and is caring for them.
I just learned an hour ago that their aunt is 15 years old and they are sleeping in the street under a makeshift tarp tent. It's night now and I wonder how that 15-year-old girl is going to find any food for herself or for those little ones.
I've only shared about the kids and people we've been seeing, but I want to say something about our staff in Haiti.
It just isn't possible to describe the emotional burden they carry. I spoke with Jozue (Joshua), who works for Compassion and is pastor of the church where we set up the mobile clinic today.
Jozue told me that on the day of the quake his wife was getting ready to wash their two little girls. Their water is outside, like a backyard spigot, and when mom went out to get the water one of the girls saw her go out and began to follow. Then the second one followed.
Mom saw the girls coming out of the house and said "Get back inside."
But the girl said "No!"
"I said go back inside!"
But the girl stomped her foot and insisted, "No!"
That happened a third time and then mom gathered her girls and began to bring them back into the house. And that's when everything started moving side to side and the house collapsed along with both of their neighbors' houses.
At that time, Jozue had just left the Compassion office, and the drive, which normally takes 30 minutes, took more than six hours.
He described driving past the collapsed buildings and houses and seeing dead people and hearing crying and frantically trying to make his way home to his family.
He had a friend with him who told him, "God is in control. If He wants them alive, they are alive. If He wants them dead, they are dead."
Jozue maintained his strength and arrived at the scene of his collapsed house after 11 p.m. He searched with a flashlight and could not find them.
Then a man asked, "Who are you looking for?"
He answered, "My family." And the man said, "They are there at the church."
He told me he was strong until he saw them and then he was overwhelmed and "became sick." Tears welled up as he told me several times how he loves his family.
He said he worked for 15 years to build that house but now he will need to live by faith. He said to live by faith always sounded good in a sermon but it was theory, and now he would need to really do it.
His wife was too troubled to stay in Haiti, and she left with the girls to be with relatives in Florida. I could see uncertainty in his eyes about his own decision to stay. But he said, "I'm a pastor. What words can I bring to my community?"
The bold, selfless blood of Jesus is alive in Jozue. Despite his opportunity to flee and be with his family, he believes that a pastor must serve in these very difficult times.
He and his church are the hope for Haiti's future. So, today this man gave himself to the work of hosting our mobile clinic in an open lot next to his church where we treated more than 100 people.
Today I prayed with Dunia, a nurse who works for Compassion supporting the Child Survival Program. Dunia has been part of our team and doing an amazing job treating so many people. But her own father died and her aunt is critically injured.
This morning she had quietly separated herself from the group to cry because she had just been told her aunt would not live. She continued to treat others until we were able to secure her transport to the hospital treating her aunt.
Her aunt may make it after all – keep praying.
There are countless stories. Everyone of them matters. Lifting the burden of a physical injury or infections is pretty easy compared to lifting the burdens of sorrow so heavy in the soul. We need to pray for and generously support our brothers and sisters in Haiti.
They not only need to continue the ministry to Haiti's children, but they need to piece together their own lives and homes as well. I would ask you to give until it hurts, and count it a privilege. There will never be a day when we regret an act of generosity or kindness.