Melissa is part of a little-known people who live atop the Cuchamatanes Mountains in western Guatemala and remain largely isolated from the rest of the world.
Her town of San Juan Cotzal has 24,000 residents. Summers are cool and winters are freezing.
Melissa and her family belong to the Mayan group Ixils. Ixils live in three villages that make up the poverty-stricken Ixil Triangle.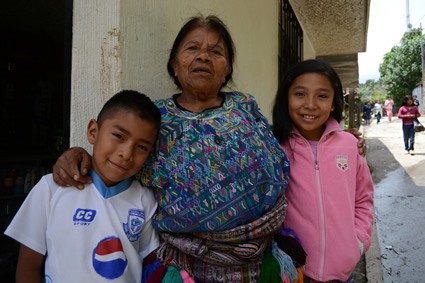 Melissa lives with her mother, Lidia, younger brother, Walter, and grandmother, Juana, in a concrete house. Concrete houses are not common in Cotzal, where most homes have wood walls and tin roofs.
Poverty in Cotzal is rampant with almost 85 percent of the population affected.
The only reason Melissa lives in a concrete house is because the house belongs to her uncle. He migrated to Guatemala City, 167 miles away, to get a job that gave him the resources to build it.
Lidia works as a nurse in a nearby public health center. She works long hours, including several night shifts a week. She leaves Melissa and Walter under their grandmother's care.
Melissa's day begins at 6 a.m. She gets dressed in her traditional clothing — a square-cut blouse called a a güipil and a wrap-around skirt called a corte. Because of the cold, she also wears a sweater.
Breakfast each morning consists of beans and tortillas or tomato sauce and tamales.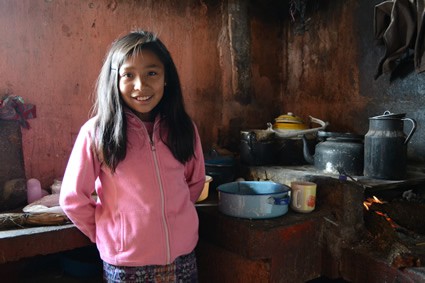 After breakfast, Melissa brushes her teeth and then walks uphill 30 minutes to school.
School begins at 7:30. Students study mathematics, language, science and social studies. All subjects are taught in Spanish, making education more challenging because Ixil is Melissa's native language. She and her classmates must learn academic subjects and Spanish simultaneously.
Melissa is a very smart girl. At 11 years old, she just finished fifth grade. Her favorite subject is science.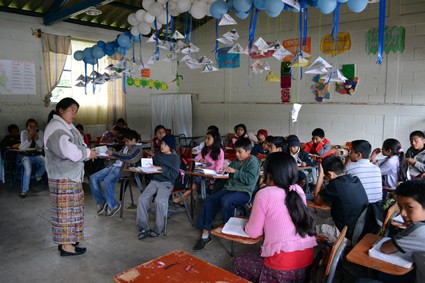 "I like science because I like to learn new things about health. My mother is a nurse, which is why I like to learn about it."
Even though Melissa likes health, she wants to be an accountant.
"I like numbers. I think it is an easy job. You get to work with money and a computer."
Recess is at 10:30. Some days, Melissa gets to buy a snack for Q1 (12 cents in the U.S.) at a small school store that sells bags of chips and cookies.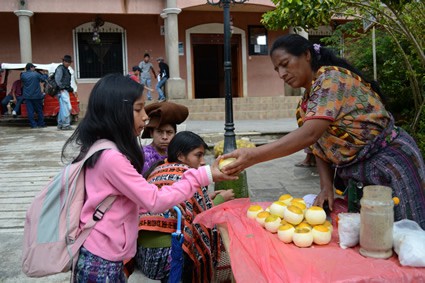 During recess, Melissa enjoys playing chess with her friends. Her physical education teacher taught the students how to play, and now they spend the entire recess playing chess.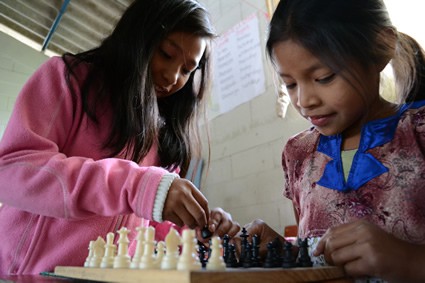 After recess, she has one and a half hours until school ends at 12:30.
After school, Melissa walks home. If she has spare time, she likes to pet her cats, draw or watch television. She takes good care of the television since it belongs to her uncle.
Around 1:30, Melissa, Walter and their grandmother have lunch. A usual lunch in Cotzal consists of boxboles, a typical food of the Ixil Triangle.
Boxboles consist of squash leaves wrapped around tortillas. They are boiled and eaten with tomato sauce. On rare occasions they have chicken broth or meat.
After lunch, Melissa goes to the Amiguitos de Jesus (Friends of Jesus) Development Center, a Compassion-assisted child development center.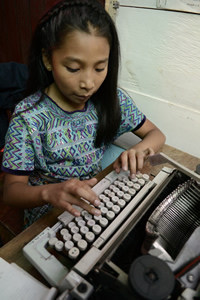 On Tuesdays and Wednesdays she goes to the center at 3 p.m. for a couple of hours to learn typing skills.
Thursdays and Fridays she attends from 2 to 5:30 p.m.
There she joins a devotional time, followed by a lesson in one of Compassion's four core child development areas: cognitive, physical, spiritual and socio-emotional.
She and the other children have snack time around 3:30 p.m., then continue with another lesson. They have time designated for homework and tutoring if they need it.
Thursdays are special because Melissa also attends tailoring classes.
Melissa participates a lot in class and she likes to ask questions. If she does not know something, she asks.
At 5 p.m., she leaves the center for home.
Then it is time for chores. One task is cleaning the one bedroom her whole family shares. The room has two beds which Melissa, her brother, grandmother and mother share.
She is also in charge of doing the dishes.
Melissa's grandmother tells us,
"Usually, she helps around. But like every 11-year-old girl, she sometimes just 'forgets' to help. The only way Melissa can get away from doing chores is if she has homework. She loves to do homework."
Around 8 p.m., Melissa has dinner. She usually eats eggs, beans and tortillas. Sometimes, if her grandmother is not feeling well, Melissa cooks for herself and her brother. She cooks eggs, fried tortillas and tomato sauce.
Before going to bed at night, she kneels beside her bed to pray.
Melissa's grandmother is very grateful for the student center.
"I like very much that she gets to go to the center. She has the opportunity to learn about the Lord."