Negros Occidental is one of the five provinces in Western Visayas, or Region VI. It lies near the central part of the Philippines, with Bacolod City as its capital. It is composed of 19 municipalities, 13 cities, and about 700 barangays, or villages — mostly rural. It is the fourth-most populous province in the country, with nearly 2.4 million people living in 7,926 square kilometers.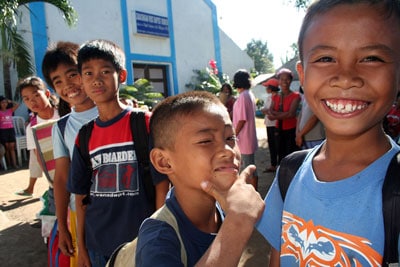 Parts of Negros Occidental are largely level plains and gently rolling slopes, and the region is separated from its neighboring province by mountain ranges. Its climate is generally pleasant, with an average temperature of 26 degrees Celsius (79 degrees Fahrenheit). It has two pronounced seasons: dry from December to May and rainy from June to November.
The most widely-spoken language is Hiligaynon, but many also speak Cebuano. Tagalog and English are widely understood and spoken.
Current Events/Issues Children Face in This Region
Negros Occidental is primarily agricultural, with sugar as its main product. This earned the province the moniker "The Sugarbowl of the Philippines." However, poverty incidence is high here, with about 41 percent of poor families in Western Visayas concentrated in this province. Unemployment rate is also high at 9 percent.
Due to poverty, many children drop out of school to work in sugar cane plantations. Here, they are exploited and forced to work long hours for meager pay. Negros Occidental has the highest magnitude of poor families in the country, mostly concentrated in rural areas. About 33 percent of the population lives on less than $1 a day. If you sponsor a child in the Philippines, that child may live in one of poorest villages here, where 21 of the Philippines' 287 implementing church partners (ICPs) minister to about 4,000 Compassion children.
Of the 287 church partners all over the islands, 207 (72.1 percent) are in rural areas.

Examples of child development centers in rural areas of the Philippines include:

PH-106, 174, 177, 178, 191, 197, 251, 259-273, 275-281, 352, 400, 401, 411, 420, 421, 435, 437, 460-468, 500, 529, 533-535, 537-539, 550, 553-559, 562, 564-566, 568-570, 574, 576-579, 607-614, 617, 618, 620-631, 634, 636, 638-640, 642-649, 665, 667-672, 740-744, 809, 813, 814, 818, 823-833, 837-839, 845-848, 860-869, 872-879, 886-890, 892-899, 916, 929-942, 953, 956-961, 971-979, 981, and 982.
Food Crisis Update
The global food crisis has impacted children and their families in Negros Occidental. While Phase I of Compassion's Hunger and Mitigation Program did not cover this province, it has been identified as one of the 54 priority areas for the government's own hunger alleviation program.
Home Life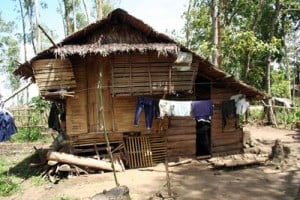 Typical houses in Negros Occidental are constructed with a bamboo floor, wooden walls, and a thatched roof. Most families have access to water and electricity.
Schools and Education
The school year in Negros Occidental generally runs from June through March. Children attend classes in one of the more than 1,500 schools in the province. Six years are required for elementary school, and another four years are necessary to graduate from high school. Like typical public schools in the country, elementary and secondary education is free, but most Compassion-assisted children need support for school uniform, textbooks, allowance and transportation expenses.
Negros Occidental has a basic literacy rate of 91 percent.

Church and Religion
Evangelicals make up about 4 percent of the population in Western Visayas. In Negros Occidental, Compassion church partners come from nine unique local evangelical denominations, 76 percent of which are Baptist. A variety of church worship services are usually held in Hiligaynon or Cebuano.