NOTE FROM EDITOR: This content honors Compassion's historical work in India. While we no longer have an India sponsorship program, we are grateful for the lives changed and meaningful work achieved through our sponsors and donors in our nearly 50 years there. For a detailed explanation of the end of our sponsorship program in India, please visit: compassion.com/india-update.
---
Beauty is a little girl from a small village in the North Dinajpur district of West Bengal, India. She lives with her father, mother and younger sister. Living in abject poverty, need and unhygienic surroundings, Beauty lost her older sister, Ratna, of tuberculosis in 2008. Ratna's sudden death left everyone in the family emotionally broken and disintegrated.
In the midst of their grief, the whole family had to undergo a series of medical tests for their safety. The test results uncovered a shocking fact to Kamal and Seema, Beauty's parents. Beauty tested positive and was in the first stage of tuberculosis. This was hard news for them, especially as they had just lost Ratna.
"We did not have words to express what we felt inside, as our hearts were frozen," says Beauty's mother.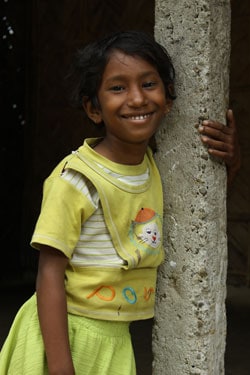 Beauty comes from a poor community where typical houses are made of beaten bamboo walls with earthen tiles covering the roof. The  families grapple with many problems daily.
Poverty has crept into their lives due to lack of hygiene, schooling, hospitals and better job opportunities. People end up pulling rickshaws, driving tricycle vans, and working at sporadic farming and a variety of daily jobs, which are hard to find.
The average daily income of a family here is a little over a dollar. Many children are so poor they cannot attend school at all. Hunger, disease and unsanitary living conditions are all around.
Beauty's father Kamal works as a temporary carpenter in a small shop. He doesn't have work every day as he works on contract. If he has work he earns about $1.30 a day. Beauty's mother Seema is a homemaker. The land on which their house is built belongs to someone else.
As Beauty's father is out of work most of the time, he was gripped with the fear of losing Beauty just like Ratna. He worked hard to earn enough to take care of his family's needs. But it was difficult for Kamal to send Beauty to school, to feed the family, and especially to take care of Beauty's medical tests, frequent examinations and medicine.
Kamal would go to work, but his mind would be elsewhere. He could not concentrate on his work properly.
"When she was younger, Beauty's nature reminded me of Ratna … Ratna's face came to mind every moment, making it hard for me to forget the pain and hurt caused by our loss."
Beauty's health gradually deteriorated, and her parents could only watch without being able to do much. She fell sick frequently and was often tired and inactive. Beauty lost her appetite and her growth was stunted. At the age of 8 she is tiny compared with other girls her age in the community.
In August 2009, Kamal heard about Compassion and took Beauty for admission at the new child development center.
Since her enrollment, the center has provided Beauty free tuition and nutritious hot meals consisting of rice, dal (lentil), vegetables andchicken/egg/fish every alternate day — food Beauty's parents can't afford.
The Compassion-assisted center also makes sure Beauty receives medical screenings, monthly doctor's checkups and, based on need, free medicines and reimbursement of bills upon producing legitimate prescriptions. Beauty receives academic and hygiene supplies from the center once a month.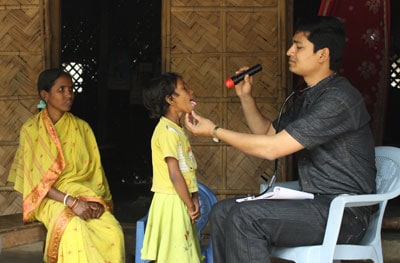 Today, Beauty is learning many things. She has learned good manners and discipline. She greets people older with respect.
Her health is improving as she is having both health screenings at the center and routine tests and examinations at the hospital for her tuberculosis — all of which the center is taking care of. She is studying well and winning medals and certificates in sports, too.
Beauty is like any other child who has potential to perform but just needs timely medical intervention.