The message from Compassion International on my voice mail said, "Call right away." I had a knot in my stomach. Something was wrong. Compassion does not call sponsors just to chat.
When I reached the lady at Compassion, she told me the startling news. Our sponsored child, Mutuyimana Valentine, had just died. They did not yet have any details to share as they had just received the report from the field.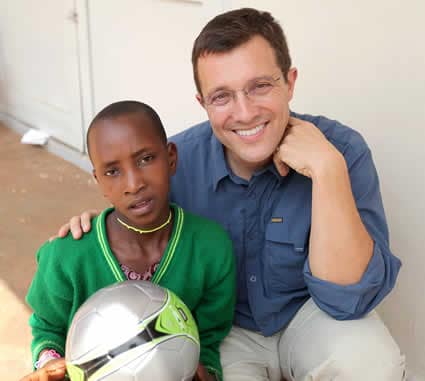 I went into my old paramedic mode and stoically asked a bunch of questions. There were no answers as to WHY at this point. That response might come in a week or so. But it almost did not matter.
The precious girl whom I had hugged in Rwanda last October was dead. Her mother and father had lost her, and she was only 11.
After five minutes of conversation, I hung up, and I became "un-stoic," if that is a word.
Sad, sad, SAD.
The little shy girl who we had exchanged letters with and had "adopted" was dead, and I felt extremely sad. I wondered about her parents and her siblings and her funeral. I wondered why she had to die so early.
Compassion had completed health screenings on her, and she had no major health issues.
I began to question … why had I not written her more? I was thankful we had met in person.
I was grateful our church provided the Bible on an MP3 player that I gave to her during our personal visit. I had asked the Compassion worker to make sure she got into the Word and to remind her how to use the machine we gave her.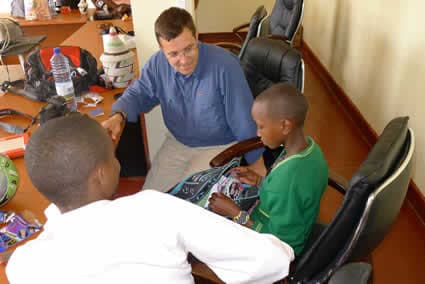 How many kids in the world die because there are not enough antibiotics? Or no doctors available for them? Or because their families lack clean water or the knowledge to treat illnesses? In Roanoke, if our kids have an infection we just go to the doctor and get medicine. "All better."
In Rwanda, especially in rural areas, that is not always the case.
I am so grateful that in her young life, she met the Lord and was trusting in Him. I am so glad God let people halfway around the world know this special little girl.
Write to and pray for your sponsored child.
---
ABOUT THE AUTHOR: Quigg Lawrence is a Compassion sponsor from Roanoke, VA, where he currently lives with his wife, Annette. Quigg is the senior pastor of the Church of the Holy Spirit and enjoys photography and any sport where you get to hit something.
If you're interested in writing a guest blog post, we are happy to consider publishing it. Read our guest blog post guidelines.