He might have forgotten, but I still remember. It was an act of love from one child to another. The memories of this wave of love in a remote village school will always stay with me.
It was early in the morning, and I was wheezing from running the three kilometers on a dusty road. After observing the mounted dust on my bare feet, the headmaster instructed me to join the other children in primary two.
It was my first day in school; the teaching was already in progress.
The others were seated, every child on his own banana-fiber mat laid on a brown dusty floor. Children were expected to come with a mat from home every morning. I did not have a mat, and I didn't want to go back home.
Standing at the door, I was nervous and stranded. I heard a low voice from inside the class inviting me to come and sit. One of the children had offered to sit with me on his mat. We sat cross-legged, part of our legs hanging off on the dusty floor.
The next day, he brought me a new banana-fiber mat that he had made for me — an act of love I will never forget.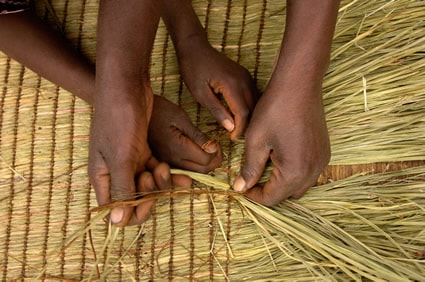 In his letter to the Hebrews, Paul calls on us to "keep on loving one another as brothers and sisters" (13:1). Love transcends how we act. It is a lifestyle.
Amid the needs of others lies an opportunity to love. Through Compassion, God has provided us with myriad opportunities to show His love to the needy.
"Because he loves me," says the LORD, "I will rescue him; I will protect him, for he acknowledges my name. He will call on me, and I will answer him; I will be with him in trouble, I will deliver him and honor him" (Psalm 91:14–15).
Dear friends, let us love one another, for love comes from God. Everyone who loves has been born of God and knows God. — 1 John 4:7
Prayer: Heavenly Father, thank You for the opportunity You give us through Compassion to show Your love to children. May our lives be a true reflection of Your love for the poor, in Jesus' name. Amen.
---

ABOUT THE AUTHOR: Richard Muliisa is a Complementary Interventions administrator for our Rwanda office.
Read all the One in Spirit devotionals.