In Bangladeshi culture, friendship is considered a relationship of the heart. It is a bond that our society appreciates and respects.
We believe that friendship develops between two individuals who are close in age and attitude. Except for a few exceptions, most children have friends who are of their age and live in the same surroundings.
Through our child development centers, the ministry has initiated a new type of friendship in Bangladesh. For sponsored children, friendship isn't limited to age, distance or culture. As these children accept their sponsors as friends, they don't get to see them in person, yet they form wonderful bonds.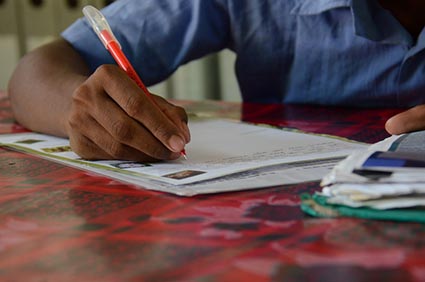 The exchange of letters between a child and sponsor initiates a relationship that can make a huge impact on both lives. Sponsors are encouraged to write often to their children. A small message from a sponsor can bring huge motivation into the lives of children who grow up in deep poverty and difficult surroundings.
Tapon is one of the thousands of children from Bangladesh who battle everyday hardships. He lives in a village that is deprived of basic amenities like electricity, water supply and a hospital. Every year during monsoon season, the overflowing river floods his village.
Because there is no water drainage system, the flood water remains for the entire monsoon. Tapon's house remains under the flood water for an even longer period as they live on the lower side of the village.
Tapon's father is a day laborer, and because of his age, he is not capable of hard work. Their hardships increased when Tapon's mother died a few years ago due to an unknown disease. The family couldn't afford to take her to the hospital.
Though tragedy has deeply affected his life, Tapon always found his sponsor and child development center beside him. He gained strength from his sponsor's encouraging messages. His sponsor's involvement never let him feel that he was alone in the darkness of depression.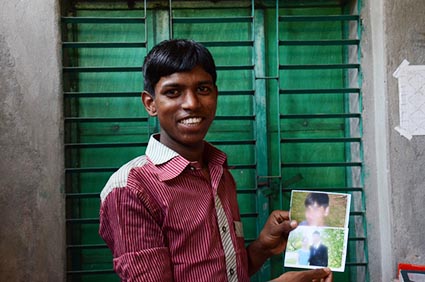 Tapon was happy to talk about his sponsor's letters. He tells us,
"Whenever I receive a letter, I feel so excited. My sponsor always wants to know about me and my condition of living. It is like a very close friend who is concerned about me. From this letter I also get to know different new things about my friend. I am always encouraged by these letters and it boosts my confidence."
Two major elements of friendship are love and care. The caring heart of Tapon's sponsor brings the two families closer. Once Tapon mentioned in his letter about the seasonal flood and how the flood water long remained inside their house.
In the next letter Tapon received several questions from his sponsor about how they were surviving and how their family condition was. His sponsor sent monetary gifts that allowed his family to have livestock and rebuild the house. Now Tapon has a strong house and a few cows that bring benefits to the family.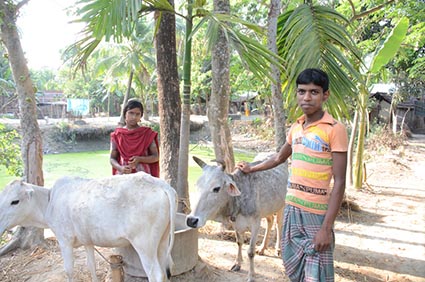 Last year the doctor found a tumor in Tapon's throat and he needed a surgery. We provided him with necessary treatment and he had a successful surgery. Throughout this entire process, Tapon's sponsor remained connected via letters.
His sponsor's consistent care for him also touched our staff. The child development center's social worker, Nripen, shares,
"I was really astonished by this sponsor's concern for Tapon. They like to remain up-to-date with his latest information and know almost every detail of Tapon's life. When his mother died or when they struggled with seasonal floods, his sponsor was always there beside him through letters.

Tapon is also very caring about his sponsor. He always writes to his sponsor in time. He never misses the chance to include any small detail that his sponsor may want to know. We are really blessed to see this wonderful relationship."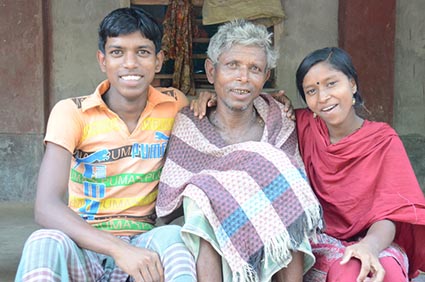 To Tapon, the letters from his sponsor are the most precious gifts, because they gave him strength during the hardest period of his life. At the same time these letters bring joy in the unexciting times of Tapon's life.
Sharing letters has brought two different people from two different parts of the world together. They have never seen each other in person, but they know each other well, though they are not close in age and do not share the same culture. They were brought up in different environments and see life in different ways, but the letters create a great bond between them.
That is the power of letters.
Motivational messages have had a huge impact on Tapon's life, but the best part is, in Bangladesh there are thousands of children like Tapon who receive encouraging letters every month that are impacting their lives in the same way.
---