We began our ministry in Bolivia in 1975 with the Child Sponsorship Program. The Leadership Development Program started in 1998, and in 2008 the Child Survival Program began.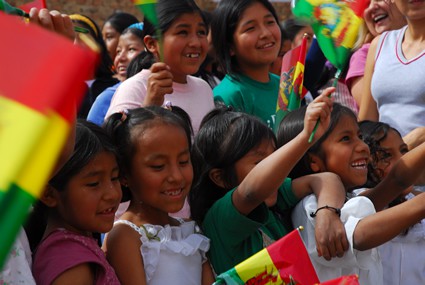 The ministry in Bolivia is now geographically positioned in almost 70 percent of the Bolivian territory and has built a positive reputation both inside and outside of the evangelical community.
Country Director
In 1984 Mario Vasquez started out with the ministry in Bolivia as a messenger and courier.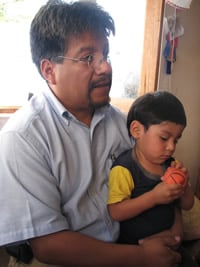 Through the years he served as an accounting assistant, an accountant, and Director of Operations. In 1991 Mario was promoted to Country Director.
Mario holds degrees in business administration, accounting and auditing. He is active at the Bethesda New Community Church and is involved in various activities within the evangelical community.
He serves on the Cochabamba Unified Churches Board and also participates in the Universal Theological Fraternity in the city of La Paz.
Implementing Church Partners
Implementing Church Partners are local churches with whom we work to deliver our Child Development Program and ministry in the field.
Spiritual Climate
The current government is putting a lot of emphasis on animistic religion, which makes spreading the gospel difficult, especially in rural areas. While there is growth among evangelical Christians, there is no strong evangelical presence in Bolivia's cultural, educational and social arenas.

Unique Challenges
One challenge unique to Implementing Church Partners in Bolivia is how to use one contextualized ministry program in the three predominant regions, because each has its own unique culture. It is also difficult to respond to various denominations' different ways of doing things. We try to be as neutral as possible, but we can't always satisfy each denomination.

The geographic locations of the child development centers and high staff turnover are also challenges.

Contributions
Implementing Church Partners provide manual labor such as classroom construction, remodeling and painting. They also provide pastoral counseling for children and their families, financial support for needy families, and home visits to sponsored children.

The financial assistance for needy families is provided one to three times per year and is $100 per family on average. The church leadership and child development center staff determines who receives this support.

Partner Development Activities
We develop partners through pastor meetings and educational workshops that inform them of changes to the way the program is run. Also, Partnership Facilitators visit church services and participate in at least one church activity per year. They get to know the church members and speak with them about our ministry and the child development center in order to strengthen our relationship with them.
Child Survival Program
Caregiver Literacy
We implement literacy plans with women who do not know how to read or write. We also work with women who have learned to read but who have had little opportunity to practice and are having difficulty.

We take advantage of the bimonthly home visits to give homework. In addition, 15 percent of churches have made alliances with educational institutions that have experience in literacy.

Income-Generating Skills
We offer monthly training in personal work skills, business skills, finances and technical skills.

Technical training includes cooking, knitting, cloth painting and decorating.

Health Care
Two medical checkups are available during the months of March and October; one is done by a pediatrician and one by an obstetrician. The objective of this schedule is to ensure that pregnant women and children have two opportunities to receive medical attention.

Bolivia has a national health program, the Mother and Child Universal Service program, which covers children under the age of five and pregnant women from the start of their pregnancy until six months after delivery.

The objective of the Mother and Child Universal Service program is to reduce malnutrition and child mortality in children five years of age and younger. For children, this program covers consultations, treatment, hospitalization, surgery, dental treatment, vitamin supplements and medication, if needed. For mothers, this program covers consultations, treatment, hospitalization, and surgery related to pregnancy, childbirth and postpartum care as well as dental treatment, micronutrients and medication, if needed.

The Mother and Child Universal Service program does not always function according to its design, however, especially in rural areas and areas of poverty where the Child Survival Programs are located. So we teach mothers their rights in regard to the Mother and Child Universal Service program, ensuring that each mother utilizes the program fully.

In the event that the Mother and Child Universal Service program does not meet mother or child needs, we use medical funds and funds from Implementing Church Partners.

Nutritional Support
Each caregiver receives a "family basket" once a month which contains items such as cereals, oatmeal, milk, beans and wheat, and in some cases, fruit and vegetables. In the case of malnutrition, we also include items such as Suprelac and Nutrebebe, as well as other items recommended by nutritionists.
Involvement of Fathers
Fathers sometimes participate in family social evenings, celebration days and family get-togethers. The greatest impact on fathers is when the Child Survival Program Implementers are in their homes inviting them to become familiar with their child's development process.

Fathers are sometimes given "homework" that covers their role as men, husbands and fathers. In many cases, it seems that the fathers put pressure on the mothers to participate in program activities.

Transitioning Out of the Child Survival Program
We have a six-month transition strategy for beneficiaries leaving the Child Survival Program. During the first phase of the transition strategy, the Child Survival Program Implementer continues monthly home visits. Children who are 36 to 39 months of age continue to learn activities within the Child Survival Program.

During the second phase of the transition strategy, children who are 40 to 41 months old continue to learn activities in the Child Survival Program, but will also visit Child Sponsorship Program classes to meet the sponsorship program tutors.

During this time, we identify mothers with teaching abilities, so they can work with other mothers as trainers in group activities in the future. We hope these activities will make the transition less traumatic for both mothers and children.

Areas of Expansion for the Child Survival Program
We will open additional Child Survival Programs in the states of La Paz (El Alto) and Potosi. These areas have high rates of child mortality and extreme poverty, but they also have highly involved and passionate churches.
Child Development Through Sponsorship
Your sponsorship of a child in Bolivia provides a variety of benefits.
Children in our Child Sponsorship Program who go to school in the morning attend the Child Development Program in the afternoon, and the children who go to school in the afternoon attend the program in the morning. Teenagers spend less time at the center because they have more schoolwork.
Meeting Times:

3 to 5 year olds: 4 hours a day, 3 days a week
6 to 8 year olds: 4 hours a day, 3 days a week
9 to 11 year olds: 4 hours a day, 3 days a week
12 to 14 year olds: 4 hours a day, 3 days a week
15 to 18 year olds: 3 hours a day, 2 days a week
19 +: 3 hours a day, 2 days a week

Nutritional Support
Each child receives a snack and lunch at the child development center twice a week. A snack consists of an egg sandwich with tea, fruit shake with crackers, fruit salad, oatmeal or bread. Lunch consists of vegetable soup, a lentil burger, salad, rice, dessert and apple juice.

Both the snack and lunch menus are prepared by a nutritionist. We feel that meals are very important for the development of the children because many do not have well-balanced meals at home.

Vaccinations
Vaccinations are mandatory. When children are registered, they are asked to show their vaccination records. If they are not current on their vaccinations, they are asked to get caught up before being enrolled at the child development center.

Children go to health centers that give vaccinations through government medical campaigns; some of these vaccines are free and others have an associated fee. If a child is under five, the Bolivian government will provide all vaccines free of charge.

Extracurricular Activities or Community Service
Children participate in sports, church and regional retreats and service activities (available for adolescents 12 years and older). Service activities include cleaning up town squares and painting.
Vocational Activities
We hope the adolescents will participate in activities in which they will learn to work and support themselves.

We offer service activities, church retreats, campouts, youth counseling, and technical training, such as computer training, pastry making, dress making and English.

Parent Involvement
We have monthly meetings where the Bible is shared and information about the child development center is given. We also offer family programs and bring in specialists on various topics that are of interest to families, such as discipline, parents' roles, marriage, sexuality, etc.

There are nine topics covered in a year, one topic per month. We have social activities and celebrate occasions such as Mother's Day and Father's Day. And in some cases, we have health campaigns that provide medical care, such as dental and eye care to the parents and siblings of sponsored children.

Areas of expansion for the Child Sponsorship Program
We plan to expand into the city of El Alto in the La Paz region. This city is growing because the majority of immigrants from the rural areas of La Paz are settling there, making it an area of extreme poverty.
Leadership Development Program
Universities Attended
Our Leadership Development Program students attend mostly government universities.
Location of Universities
The universities are mostly located in the urban areas of the main cities.
Service Opportunities
Many students serve at their churches, and some students are beginning to hold social activities for street children and abandoned women.
Leadership Development Program Meetings
Leadership Development Program students meet every Saturday to study the Bible, share with each other, pray and counsel one another. They cover program curriculum and participate in activities together monthly.
Specialty Curriculum Topics or Resources
We hire people with expertise in the areas we want to teach, such as Bible study methods, stewardship of money, sexual issues in relationships, etc.
Mentors
We ask our staff if they would be interested in mentoring a Leadership Development Program student or if they know someone who might be interested.

Also, Leadership Development Program Specialists will talk to people at church or other Christian organizations who shown interest in developing leadership skills among young people.

Career Placement Assistance
The Commerce Institution of Bolivia is an affiliation of various corporations and companies in the city whose main role is to promote business activity in the city and across the country. If a company needs an intern, they advertise through this institution. Our Leadership Development Program will notify students when a new job opening or internship has been advertised.
Complementary Interventions
Our core Child Sponsorship Program, while comprehensive, does not address all obstacles to a child's healthy development.
Compassion's Complementary Interventions program was created to provide additional services as needed, such as our AIDS Initiative, disaster relief, water projects, special medical intervention and provision of Bibles to all Compassion-assisted children.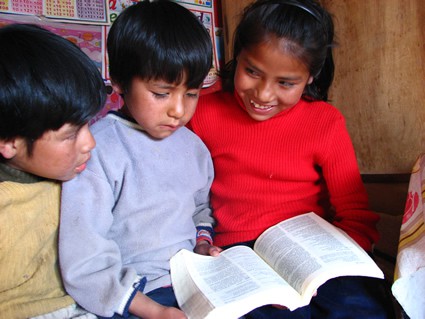 Complementary Interventions in Bolivia include medical and education funds. Additional Complementary Interventions are selected based on annual strategic planning.