We began our ministry in Brazil in 1975. In 2007, we started the Leadership Development Program.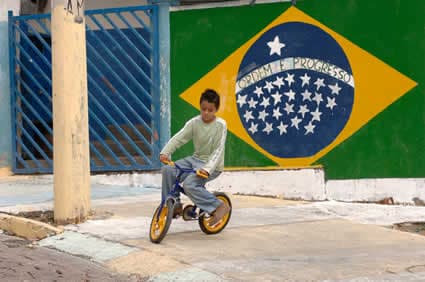 The ministry in Brazil is beginning to expand into the northeast region of the country. This is exciting because most Brazilians aren't aware of the extreme poverty that exists in that area.
Country Director
Susete Cardoso was invited to work in the Finance Department when our office opened in 1987. After joining the ministry, Susete studied accounting and received a Master's in Information Technology.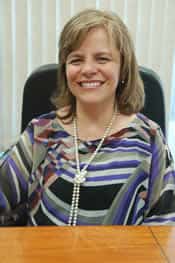 Prior to this, she volunteered in an organization that partnered with our ministry. In 2003, Susete was appointed Brazil's Country Director.
Shortly after accepting Christ at age 18, Susete decided to study theology in seminary.
She took courses that focused on evangelism to children. Through these courses, she volunteered in public schools to share Jesus with children.
Implementing Church Partners
Implementing Church Partners are local churches with whom we work to deliver our child development program and ministry in the field.
Spiritual Climate
The presence of evangelical Christians is growing in Brazil. In 2000, there were approximately 26.1 million evangelical Christians.

It is projected that 25 percent of the population, or just over 48 million people, will declare themselves as evangelicals in 2011.

However, neo-Pentecostal sects and atheism are growing as well. Some neo-Pentecostal sects are particularly challenging because they target the poor population with the idea that they should give money to God and the church so that God will be good to them.

Unique Challenges
Brazil is a very large country and influenced by several different cultures. We work in metropolitan areas as well as in the countryside, so the socio-cultural differences among Implementing Church Partners can be quite challenging.

For example, Implementing Church Partners located in metropolitan areas are more focused on programs offering employment opportunities; while in rural areas, Implementing Church Partners focus on issues such as nutrition or security because famine and abandonment in these areas are more prevalent.

Also, it can be difficult to preach the Gospel to the isolated people of Brazil.

Contributions
Implementing Church Partners provide facilities for all child development center activities as well as food and volunteers.
Partner Development Activities
Our ministry in Brazil develops partners through individual and group training on topics such as child protection, children's rights and financial management. We also hold church leadership meetings, conduct Partnership Facilitator visits, and provide follow-ups with supervisors and child development center committees.
Child Sponsorship Program
Your sponsorship of a child in Brazil provides a variety of benefits.
Meeting Times
Children in Brazil attend school either in the morning or the evening, so they go to the child development center either before or after school. Some development centers have activities more days and hours per week, but the average meeting times are:

3 to 5 year olds: 8 hours a day, 2 days a week
6 to 8 year olds: 6 hours a day, 2 days a week
9 to 11 year olds: 6 hours a day, 2 days a week
12 to 14 year olds: 4 hours a day, 1 day a week
15 to 18 year olds: 4 hours a day, 1 day a week

Nutritional Support
Each child receives a meal such as pasta, rice, vegetables and/or meat on the days that they attend the child development center.
Vaccinations
The children receive their vaccinations free of charge at government health centers. These centers offer all of the vaccinations needed for child development and any vaccines needed in the case of a pandemic, such as Influenza A. The child development centers review each child's vaccination record often to be sure it is current.
Extracurricular Activities or Community Service
Child development centers encourage children to participate in extracurricular activities such as sports tournaments, camps, dance performances, job fairs and field trips to parks, museums, zoos and local companies.

The centers also hold Health Week, which is a time where the center educates children and their parents about hygiene and disease prevention. Medical checkups are encouraged and the child development centers bring in health professionals to speak on topics such as malnutrition, prevention of disease, and self-care.

In addition, the child development centers conduct social responsibility campaigns to raise awareness in their communities about disease prevention, such as dengue, and other social issues.

Vocational Activities
Child development centers are encouraged to become aware of any free courses, training and other opportunities available in their community.

Our objective for vocational training courses is for adolescents to find employment and to be able to help support their families and/or be self-supporting after completing the Child Sponsorship Program and high school. Some students may be able to fund continued schooling with theses skills.

Adolescents are typically involved in skills workshops, such as hairdressing, nails, information technology, and office skills.

There are many adolescents who are now self-supporting as a result of their vocational training in the child sponsorship program.

Child Sponsorship Program Alumni Activities
Some Implementing Church Partners promote alumni events, but there are no country-wide events. Some alumni volunteer or work as employees at the child development centers.
Parent Involvement
Parenting classes are offered every three months.

Parents are also encouraged to join in the bigger events, such as Mother's Day, Father's Day, Children's Day celebrations, etc.

Areas of Expansion for Child Sponsorship Program
We are expanding into the northeastern area of Brazil. This area has the lowest human development index of the country and the most concentrated areas of poverty.
Leadership Development Program
Universities Attended
The students attend both public and private universities.
Location of Universities
Most of the universities are located in the capital city.
Working Students
Approximately 70 percent of Leadership Development Program students in Brazil work while attending university. Most are doing a part-time internship, while others must work the majority of the day and study at night.

When a child turns 18 years old, his family expects him to work and help out with family expenses. Each student's work situation is often dependent on the family's socio-economic situation.

Service Opportunities
Many students go back to their former child development center to help the children with tutoring, music and sports. Some students serve as volunteers or interns at their local church or at local companies. Most of this volunteer work involves medical care, education and spiritual help.
Leadership Development Program Meetings
The larger Leadership Development Program group meets together twice a month. One meeting is to cover curriculum, enjoy activities together, listen to a motivational speaker, or receive orientation sessions from the ministry, which can include instructions on completing reports, sponsor news, etc.

The smaller Leadership Development Program meeting occurs with small groups also called "alliance groups." Alliance groups are led by Leadership Development Program students and exist to provide emotional, spiritual and social support. Students also meet with their mentors at this time.

Specialty Curriculum
We cover three primary specialty curriculum topics, motivation, cognitive ability and spiritual life. The motivation curricula helps students believe in their potential.

The cognitive ability curricula helps to encourage the students to achieve their best academic performance. And, spiritual life curricula encourages commitment to biblical principals and holy living, which includes abstinence.

We feel that these three topics are extremely relevant to our Leadership Development Program students. Due to poverty, many youth do not believe in their potential and underestimate themselves.

Lastly, many students experience sexual temptation as well as temptation to compromise integrity when they attend university. For these reasons, we cover the three topics listed above.

Mentors
Leadership Development Program Specialists help students seek a mentor from their church, child development center, Compassion Brazil or someone in their family. If they are not able to find a mentor in one of those areas, they try to find a university teacher, community leader or a professional in their area of study.
Complementary Interventions
Our core Child Sponsorship Program, while comprehensive, does not address all obstacles to a child's healthy development. The Complementary Interventions program was created to work with our holistic child development model to provide additional services, such as our AIDS Initiative, funds for Bibles for All Children, disaster relief and water projects.
Complementary Interventions in Brazil are typically used for education, curriculum and infrastructure.
Highly Vulnerable Children
Children who are abused or exploited and attend the child development center receive trauma counseling, legal counseling and medical care.