We began our ministry in Burkina Faso in 2004 starting with the Child Sponsorship Program. So far we have 20,000 registered children in Burkina Faso.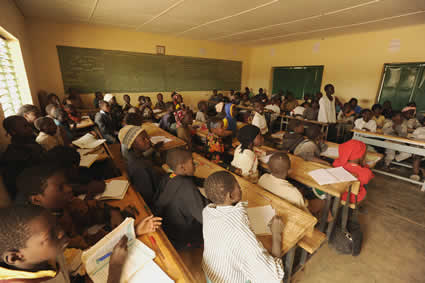 Country Director
Palamanga Ouali joined us as Country Director of Burkina Faso in May, 2009. Palamanga is an economist with almost 17 years of experience.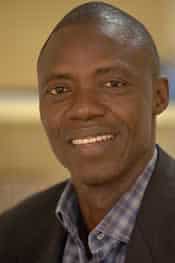 Prior to coming to our ministry, Palamanga worked at the Ministry of Economy and Finance of Burkina Faso, the United Nations Development Program and the United States African Development Foundation.
He has expertise in economic analysis, business development, management and human development, as well as a special interest in advocacy and policy dialogue.
Palamango holds a statistical working engineer degree from the African and Mauritius Institute for Statistics and Applied Economics in Kigali, Rwanda as well as a master's in economics from the University of Ouagadougou.
He received his postgraduate diploma in economics policy management from the University of Auvergne, Clermont-Ferrand, in France.
Implementing Church Partners
Implementing Church Partners are local churches in Burkina Faso with whom we work to deliver child development and ministry in the field.
More than 50 percent of the population in Burkina Faso claim to be Islamic, while only 6 percent claim to be evangelical Christians. The Islamic population receives scholarships and investments from Islamic countries whose claim is to Islamize the country.
The lack of denominational diversity is a challenge for our ministry in Burkina Faso. Our standard is not to have more than 25 percent of the registered children from any one particular denomination. Currently, there is one denomination that accounts for more than 60 percent of our registered children in Burkina Faso.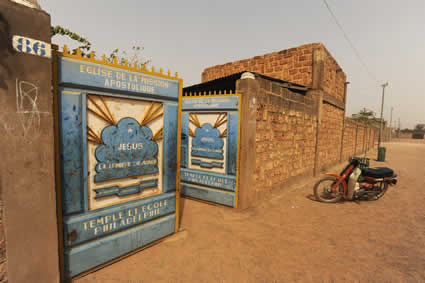 The lack of infrastructure in churches in Burkina Faso can sometimes make child development center implementation difficult.
Another challenge is that prices of goods remain high because Burkina Faso is a landlocked country. This means that money does not go as far.
We offer training to our church partners in Burkina Faso on issues such as financial management, holistic child development, proposal writing, child development center planning, child nutrition and other topics.
Child Development Through Sponsorship
Your sponsorship of a child in Burkina Faso provides a variety of benefits.
Meeting Weekly

Primary schools do not hold school on Thursday because that is when the younger children go to the child development centers. Secondary school children go to the child development centers on Saturdays.

3 to 5 year olds: 8 hours on Thursday
6 to 8 year olds: 8 hours on Thursday
9 to 11 year olds: 8 hours on Thursday
12 to 14 year olds: 4 hours on Saturday
15 to 22 year olds: There are no 15-22 year olds in our program at this time
because it is still relatively new.
Nutritional Support

Each child receives breakfast, which consists of milk, bread and porridge, and lunch, which consists of rice, beans, sagabo (a local food made of millet or corn flour) and spaghetti on the day they come to the center.

Additional nutritional support such rice, maize and oil is provided for extremely needy families such as those affected by HIV.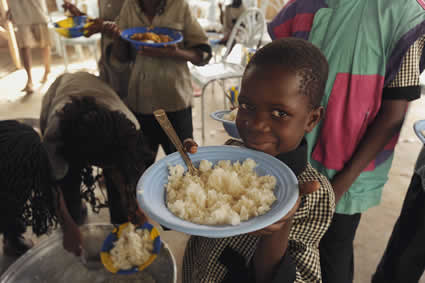 Vaccinations

In the case of an epidemic, the government will give free vaccinations at the public health center. In other cases, our ministry in Burkina Faso purchases the vaccines and hires nurses to administer them to the children.
Extracurricular Activities or Community Service

Extracurricular activities offered include camps and field trips to museums and national parks. The children also have the opportunity to do community service such as planting trees and cleaning at the child development center and in the community.
Vocational Activities

Several areas of vocation-focused activities are offered to older children including mechanics, hair dressing, sewing, soap making, gardening and animal breeding.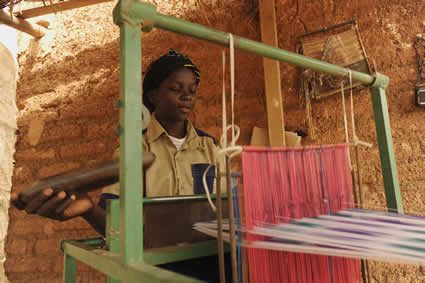 We offer activities that the children are interested in as well as activities that will expose them to something new and will be profitable in our area. If a child wants to learn a skill that is not offered, Implementing Church Partners will make an effort to make that training available.
The children learning these skills are too young to need job placement at this time, and there is no plan for job placement assistance in the future.
Parent Involvement

We have parents' classes on hygiene, malaria prevention, reproductive health and nutrition two or three times a year depending on funds available.

We provide training on income-generating activities, such as food and grain selling and tool provision, and we offer HIV testing which is part of the voluntary counseling and testing program.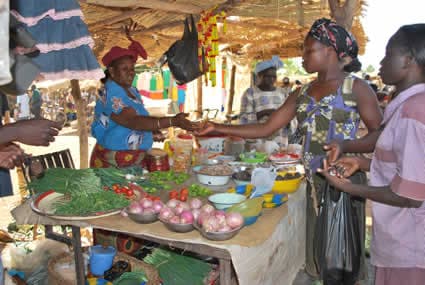 We are planning to expand toward the north and south, taking into consideration poverty level, church preparedness and denominational diversity.
Complementary Interventions Program
Our core child sponsorship program, while comprehensive, does not address all obstacles to a child's healthy development. The Complementary Interventions Program was created to work with our holistic child development model to provide additional services such as our AIDS Initiative, funds for Bibles for All Children, disaster relief and water projects.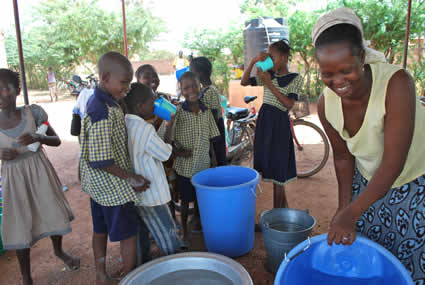 Typical Complementary Interventions in Burkina Faso include provision of clean water, shelter, health, playgrounds, farming, toilets, disaster relief, food and income-generating activities.
Highly Vulnerable Children
Children in Burkina Faso are deemed to be highly vulnerable when they experience one or more of the following situations:
Caregiver deprivation and incapacitation
Abuse and exploitation
Disability and special needs
Most of our needs for highly vulnerable children in Burkina Faso center around food, accommodation, clothing, health monitoring, nutritional and educational support and counseling.