When children are registered at our centers, parent and staff are happy to work together for the children's benefit. At the same time, the adults wonder who might sponsor each child and when. Everyone is grateful when a relationship between a sponsor and child begins.
Once a child has a sponsor, letters play a key role in the process. Taking a piece of paper, writing a few paragraphs, and sending a picture or sticker might not seem like a big deal, but for the children, anything they receive from you is of great worth.
"It means that there is someone interested in them, in their well-being, and that there is someone who is always hoping that the children do good physically, emotionally, spiritually and academically," says Darlyng, Rayitos de Bendicion Student Center Director. It's also important "knowing that children are present in sponsors' prayers for God's protection upon them."
Children cherish your letters, and share them with friends and family.
Being sponsored is about more than receiving monetary support. It means a relationship between you and the child that can grow to become a long-term friendship. In some cases, the loving words children read in your letters will be the only expression of love they will receive outside of the center.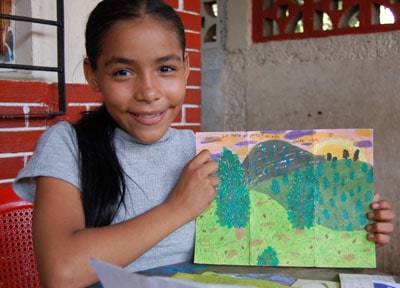 That friendship and love is what Ana, a registered child at Rayitos de Bendicion Student Center, and her family are experiencing. They are delighted and thankful for the privilege to have a sponsor.
Ana's father is a jeweler, but he doesn't receive any reliable income from his work. When the family runs out of school supplies, it takes a while to buy more. Sometimes they don't have enough to buy the shoes they need. The food at home is not very good, but they always have the basics like rice, beans, oil, sugar, coffee, etc.
"The center is an important help and we adjust finances with difficulty. There is not much meat in the menu at home, but God always gives us the sustenance," says Ana's mother, Rosa.
Four years ago Ana was registered at the center, along with two other siblings. Ana was the first child in her family to be sponsored. Though Ana's first sponsor canceled, her second sponsor has been with her for three years. Since then, the constant communication between her and her sponsor has resulted in a beautiful relationship.
"I was very happy when I heard that Ana was sponsored. Her sponsor is a girl and that girl is constantly sending letters to Ana. They talk about their pets and advances in school. Ana is the one that receives [the most] letters of the three children," Rosa says.
Ana enjoys sharing what she learns at the development center with her sponsor.
Ana is a tall, skinny 10-year-old girl. She is outgoing, caring, content, helpful and active in class. She is in fourth grade and doing very well in school. Her favorite class is Spanish. At the center, Ana eagerly awaits the day her group writes letters. Then, she gets the chance to write back to her sponsor and tell her "things" about herself and her family.
Although Ana has never met her faraway friend in person, the effect the relationship has had on the Ana's life is clear. She creates nice pictures for her sponsor because she knows that her sponsor likes to paint.
"Ana's mother shares with us that there is a change in her daughter. Ana attends the center faithfully. She likes to be here and the mother is content because Ana is more interested in being at the center to learn God's Word instead of being out there in the street or with bad company," says Darlyng.
Ana says of her sponsor,
"She is like a sister to me because she talks to me and tells me she's coming, so I'm always waiting for her. I am very happy and thankful with God because she always sends me nice things and wishes me blessings from God, and she also sends me pictures."
After years of communicating through letters, Ana hopes that she will one day be able to meet her sponsor in person.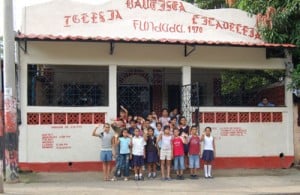 At least 80 percent of registered children in Nicaragua are sponsored, which is a great blessing and privilege for every child. It is also a great opportunity to develop a close relationship like that of Ana and her sponsor.
Witnessing the faces of children as they get a letter or a present from their sponsor is an invaluable sight. The impact of a simple letter goes beyond what eyes can see.
Keep writing, keep communicating, and keep letting your child know that he or she is loved.