As a leader, Jonathan had vision, faith in his God, and courage to act on his faith. But I am amazed by his armor bearer's answer and attitude.
His response shows that he is ready to follow his leader, not out of fear of losing his job or because he didn't want to discourage his boss, but because he captured the vision and owned the mission. He was able to respond with confidence, "I'm with you completely, whatever you decide" (NLT).
In other words, "I am not going just because you are going; I am going because I am convinced from my heart and mind that God can do it and He is with us."
This is the lesson I have learned since I joined this ministry — that even if you joined this organization just because you were seeking a new job, you will soon be captured by the vision. The heart for children will totally consume you, and you will start moving to action, not because it's your job, but because you are called by God to do that thing you do in your position.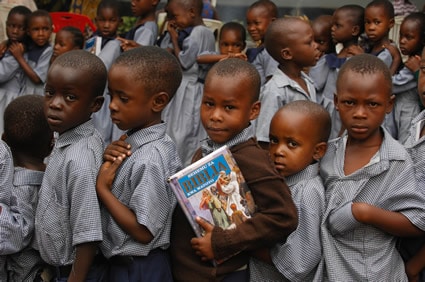 I am amazed that when you meet any of our staff, regardless of the country they come from, you witness the same thing, the "heart for children." Is this the doing of our good manuals, policies and guidelines? Not at all. It is the work of the Holy Spirit, the author and finisher of this mission.
Thanks to our leaders at all levels for yielding to the Holy Spirit and being available to be used by God to carry on the vision.
"Do all that you have in mind," his armor-bearer said. "Go ahead; I am with you heart and soul." — 1 Samuel 14:7, NIV
Prayer: Dear Lord Jesus, help us always to be moved by the things that move You, to have the heart for children, and to minister to them as You would do if You were physically on earth. Amen.
---

ABOUT THE AUTHOR: Edwin Mugisha works as a Sponsor and Donor Services Supervisor for Compassion Tanzania.
Read all the One in Spirit devotionals.