A young man sat on a hard wooden chair in the school chapel, wondering how God would use him. He wasn't given the gifts of teaching, preaching, healing, or other more obvious gifts that so many Christians seemed to value.
He had more practical gifts that seemed oriented to the back office of the church. And he didn't feel a need to change the world like so many of his peers.
Painted on the wall at the front of the chapel were the words of Ephesians 2:10. They spoke to him.
While pondering this verse, he realized God didn't need him to be anything other than the person he was. He was made for a specific purpose, one that wasn't the same as other people he knew. His special purpose was to bring the craftsmanship that God had created in him to make a difference in the world.
God had made him with talents, abilities, and interests in administration, not teaching or preaching. While in the chapel, staring at the verse painted on the wall, God set the course for this 16-year-old's life — to serve in Christian management and to help at least one Christian organization run with excellence.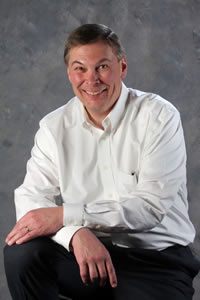 I was that young man.
God's calling on my life is just as clear now as it was sitting in that chapel 35 years ago. Looking back now, it is amazing to see how God has used my life consistently with the way He spoke to me in that chapel.
God has made each of us in a particular way with strengths and abilities that we are to use to serve Him. He leads us to do what He desires us to do.
He also has a specific set of responsibilities for us to accomplish with these gifts.
We can be perfectly content with how God made us because we are asked to do only what He has equipped us to do. Spend time today thinking about how it is that God has uniquely gifted you for serving His purposes.
For we are God's handiwork, created in Christ Jesus to do good works, which God prepared in advance for us to do. — Ephesians 2:10, NIV
Prayer: Father, thank You for making us who we are. You have made each of us with excellence and want us to serve Your purposes with our lives. Help us today to use the abilities You have given us to accomplish your purposes.
---

ABOUT THE AUTHOR: Jeff Wood works as the Senior Vice President of Ministry Services at the Global Ministry Center in Colorado Springs, Colo.
Read all the One in Spirit devotionals.