It was a very hot summer day in Honduras, and I was on my five-year anniversary trip with the ministry. One of the translators came up to me and said, "I don't know what to do with this little girl."
She went on to tell me that the girl thought that her sponsor was coming to visit her. I was not sure what I was supposed to do, but I asked to see the girl.
The translator took me and introduced me to Heydi. She was 10 years old and wore a lavender dress. She looked beautiful in it. I asked if she thought her sponsor was coming to visit. Heydi shyly nodded her head.
I tried to explain that I was sure her sponsor loved her and would want to come if she could, but I could tell I was not helping Heydi.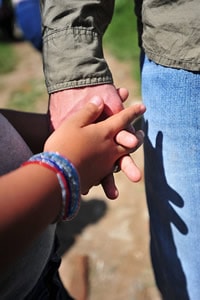 So I said, "I don't have a sponsored child at this child development center, and your sponsor isn't here today, so would it be alright with you if I was your sponsor for today?" Suddenly, Heydi lit up. She was joyfully nodding her head now.
She grabbed my hand, and I did not get it back for at least 30 minutes. I got introduced to all kinds of people. We spent the entire day together. She even went with me on our home visits.
That was in 2005, and it is one of the most special memories I have with the ministry. I hope Heydi remembers that day as fondly as I do.
For a few hours, God allowed me to love on a little girl and show her she was not forgotten.
One of the great things about our ministry is that God allows us to speak truth into the lives of children who believe they have been forgotten.
But God will never forget the needy. — Psalm 9:18a, NIV
Prayer: Father, we know how much you love your children. Give us the strength and endurance to reach every child that you have planned for us. Allow us to find sponsors who will love and encourage them. Help us to be obedient to the call of God in Christ Jesus for the sake of your children.
---

ABOUT THE AUTHOR: David Fronterhouse works as a Beyond COMPASS Solution Director at the Global Ministry Center in Colorado Springs, Colo.
Read all the One in Spirit devotionals.