Compassion seeks to register the poorest children around the world, and Eric in the Philippines is one of them. Compassion gives hope to those who need it most.
Based on its studies on poverty, Compassion in the Philippines identified Rio Tuba as one of the neediest towns in the country, and Eric's family is the neediest of them all.
In this isolated town where only one bus line is willing to travel from the main city, Eric's family is even cut off from the rest of the residents. They live in an unfinished, tiny bamboo hut in the middle of an open field. Although from time to time their closest neighbor gives food and offers help, he often mocks them for their predicament.
Eric's father, Benny, is a carpenter. He used to earn a daily income of US$5.60 when there was available work. This was not enough to feed his seven children. Since his wife left them in March 2008, Benny stopped working completely to take care of his children full time.
In April 2008, Compassion partnered with the Full Gospel Assemblies of God Church in Rio Tuba, thereby establishing the Rio Tuba Learning and Development Center. The center was ready to register children in a month's time.
The first step was to conduct house-to-house interviews in order to identify the neediest of all. Church partner staff scoured nearby slum neighborhoods to interview heads of families.
"We are determined to register the neediest children in Rio Tuba, particularly those who are not members of our church," says Pastor Gwen, explaining that one of the primary goals of the partnership is evangelism. As pastor for 20 years, she is excited to begin the partnership believing that they "could now truly reach out to the people."
Average church attendance is 120, but on May 18th the church auditorium was packed with 74 mothers with their children for initial orientation. They were the one's chosen from the household survey and were scheduled for registration three days after. Eric came with his sister, Jonalyn.
On this orientation prior to registration Isabelita, the director of the child development center, says,
"We explained that Compassion staff from Manila will arrive on Wednesday to register the children. We are excited because we know that the registration process was the first step to giving these children hope and opportunities in life."
Wednesday came, and Benny was not really excited about his son's registration at the center. He sat on their bamboo floor, staring blankly at the open field. He had only one focus — to feed and protect his children.
He could not envision the long-term help that sponsorship could provide his son. He just hoped that today, as Eric and Jonalyn go to church, they would be fed. Jonalyn and Eric left early. Baby Erwin cried and wanted to go with them, but big sister shooed him away. The other children were playing outside.
Mothers and children filled up the church as early as 7:30 a.m., an hour and a half earlier than scheduled. Children dressed well. They sensed it was for a special reason that they were at church on a Wednesday morning, and so they were careful not to get themselves dirty as they played inside the church while waiting.
After a 30-minute walk, Eric and Jonalyn arrived, and immediately the caseworker handed Eric a yellow paper with the number "1." She explained that he was the first child to be registered. Eric wore a white T-shirt, black short pants and leather shoes.
Staff from Compassion's country office in Manila arrived and explained how the child registration would be done. They gave instructions on how to stand in front of the camera: "Don't be afraid of the camera. Relax. Place your hands on your sides and give us a big smile."
They explained that after pictures were taken child case studies would be done. Eric was sitting in front during the orientation. He was motionless. It was his first picture ever taken.
After a few more instructions from the staff, children were made to line up for pictures outside the church where there was enough light from the sun. Eric was first to stand in front of the camera, and by his feet a number was placed to identify him: The number 1, the first registered child in the program.
He did not smile. He stared blankly at the camera.
Back home, Eric slowly climbed the bamboo stairs to take off his leather shoes. He did not have a pair of socks and so his feet hurt from all the walking. His father arrived with a handful of root crops and asked about the registration.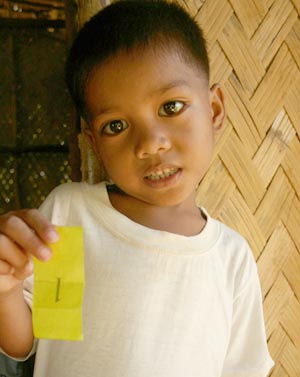 "I had my picture taken," Eric said as he handed the yellow paper with the number "1" to his father and jumped out to play with Erwin.
Benny and Eric don't know it yet, but on that day Eric took the first step towards receiving many opportunities in life. For his sake and for the other 74 newly registered children, Compassion in the Philippines will now train and equip the Full Gospel Assemblies of God Church so that the center can provide tutorials, health care, health monitoring, discipleship, life-skills training and fun activities for the children.
They will also be trained on how to build a meaningful relationship between the children and their would-be sponsors, in which the sponsors are able to encourage and support their long-term development.
Eric will be immersed in a safe and loving environment where he will receive opportunities to know Jesus, gain many friends, play, eat balanced meals, be regularly monitored of his health condition, and more importantly begin school next year. He is now a registered child.