Maritza, from the window of her one floor house, is watching me as I come towards her home. It is made from planks of wood, painted in blue heaven, and between plank and plank the sunlight streams inside.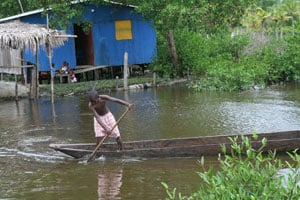 To get to Maritza's house, I jumped from stone to stone to keep out of the mud and also crossed on planks above the stagnant water.
My guide is telling me that we are in the dry season. In the rainy season the rivers overflow the streets and the water rises up to the people's waists, so they use boats to get around.
In those times the children get skin infections and fevers from the mosquito bites.
Maritza lives with Franklin and their six children; they lost three children because she was sick in those times.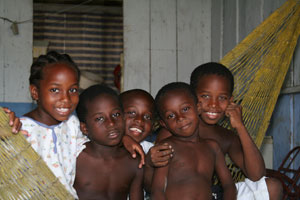 Today the boys are only in shorts and without shoes. I can see two single beds where they sleep together. Right now, they are enjoying the hammock hanging in the center of the main room.
At first, Maritza, 34 years old, is a little bit nervous to talk with me but she understands that their situation is like many families in Uraba. She tries to brush her hair, then calls her youngest daughter Lorna, and she sits her in her legs to finish Lorna's braids.
When I ask why the children are not at the school, in a low voice and water in her eyes, she answers me that they did not have money to pay tuition, buy books and clothes and from now their priority is to feed the children.
"The two oldest, (Esleider 12 and Lorci 13) are the only ones who can go to the school thanks to the Compassion program".
After she takes a breath with courage she starts to talk about her family stories as only mothers do.
Maritza had 15 brothers when she lived in Mulato a town of 500 hundred people up north of Uraba.
They lived from the farming of rice, yucca and fishing. Until one day a brother of 19 years old, went to buy wine to the store and someone killed him with out any reason.
In fact all her brothers escaped to different cities. Maritza says: "Whole families were killed in those days. Thanks to God´s mercy my brothers are alive."
She went alone to Nueva Colonia town when she was 15 years old. A lady took care of her and three days later she met her husband Franklin, four years old than her. From there they are living together in the good and bad times.
"He saw me and he brings me to live with his parents. The lady's mother treated me as one of her daughters and years later we left them and started to pay rent," explains Maritza.
Six years ago Franklin bought this house from a landowner. The invaders of this land sell land to the humble people although they didn't pay anything for the land.
Maritza and Franklin are still paying bills for this house. Franklin is 39 years old and right now is tired after 10 hours of hard work in a banana farm, and from his hammock is telling me about his job. He says:
"Colombian bananas are the sweetest in the world. The banana plant lives only for six months, and in that time it gives only one bunch. After the bunch is ripe, the plant is cut to give space to the next plant to grow, which is the daughter plant and when the daughter plant gives a bunch it will be cut to bring the granddaughter plant, to begin the cycle again."
The land is so fertile and from a plane you can see a sea of banana plants only separated by roads. This land is the perfect place for all the monkeys and parrots of this world.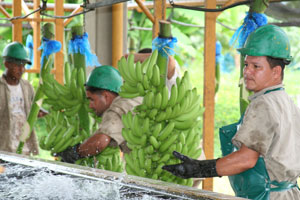 But to the workers of the banana farms like Franklin, the work is harder every day and with less pay. A year and a half ago most of the workers worked only for 2 or 3 days a week.
Few workers have full time jobs, as Franklin does, and he earns 40 dollars a month. From there he is paying part of his house and water and electricity bills.
Of the total population of 563,000 in Uraba around 70 percent are low class workers and 20 percent are in a total poverty. Most of them are African descendants with a mixture of natives. They are suffering without fair job opportunities, education and health benefits.
As she is setting the fire behind her house to make the dinner of the day, Maritza says,
"We are living difficult moments overall, when we do not have money to feed our children. Two months ago we did not have anything to feed them. I was praying to God that the children can eat something. I was desperate but then some brothers and sisters of the church came with a basket of oil, rice and sugar. Thanks to God we have food for the next 20 days."
Maritza is telling me that she is Christian for 16 years and God delivered her from death when she arrived to this town. In the past she couldn´t have children and she recognized that God made miracles.
And also God was changing the heart of Franklin because he did not believe in God and he was smoker and jealous and now he is a good husband.
At this time they are going to the parents classes at the child development center, and they are learning to treat their children with love and also how to have self esteem.
Now they have hope in their children and are seeing them to grow in Christ's path (Mateo 5, Lorna 7, Aron 9, Moises 11, Esleider 12 and Lorci 13 ). The two oldest ones are studying at the child development center.
The dream of Maritza and Franklin is that Lorna and Esleider become Leadership Development Program students because Lorna wants to be a professional company administrator and he wants to be a musician. Esleider is playing instruments at the church.
Their home has also been made more secure, thanks to Compassion's support. A few months ago Maritza and Franklin got new tiles for their roof so they are safe from the strong rainstorms.
As a family reflection they are so thankful that the sponsors, people from far away, are supporting them economically and spiritually.
Maritza always forgot the birthday of her children and only when the tutor came and arrived with the birthday present from the sponsor did she remember. She is thankful for that.
Always, when they receive help from the Compassion student center it is the right time. When the shoes are completely destroyed it is the time when they received help to buy new shoes.
When the two children began to receive support from the child development center, Esleider was violent. He was fighting with his classmates most of the time.
He thought that no one loved him. He felt rejected; until Elvira, a lady from the committee of the Compassion center was counseling and praying for him and now he has a positive attitude. He received affection from her and now he does not fight any more. Meanwhile, at the center the staff are praying for the problems of each child every day.
Lorci, when she had six years, got a skin infection from the stagnant water and she has skin marks since then. Her classmates give her nicknames and she felt embarrassed.
Compassion doctors helped her to recover from this disease. Elvira talked to her until she had better self esteem. Today she sings special songs at the church and she is going to the doctor for checkups.
When I asked Maritza why she had six children in this situation of poverty she answered me that she didn't consider the consequences to feed six children.
In Uraba I was walking in the street and the ladies were looking at the horizon with out any energy. At the end of the afternoon, Maritza from her window is looking beyond the horizon and I am sure that she is praying to God for her children.