My name is Soledad Agreda, and I am the Trips and Visits Team Leader of the Peru office. I have been doing this work for about a year and a half now, and my main responsibilities are to organize, facilitate and host individual sponsor visits and trips along with Elia Sipan, the Trips and Visits Specialist.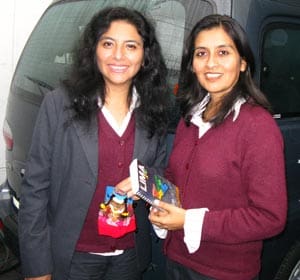 Our positions are thought to be some of the most exciting in Compassion. We get to go out a lot, travel on a regular basis, go to nice dinners and get to know many interesting people. It is true, my position involves these things, but it is actually much more.
With the purpose of giving a better understanding, I will describe one day in my life, but I would like to give some more information about me first.
I am single and still live with my parents and my brother. I have been working with Compassion for 12 years now.
Because I worked as a translator for children and sponsor letters before becoming an employee, when I became an employee, I started working with correspondence. However, my previous manager, who is now the country director, encouraged me to focus on sponsor visits as I had the skills of fluent English, intercultural experience and getting along well with people.
So I have been in sponsor visits since the very first year I joined Compassion. Besides the fact that I really like children and enjoy being with them, one reason I decided to work here is because I felt at home with Compassion.
As a result of my work, I have learned that I can do more things than I ever expected.
At first I did not know I could become a Trips and Visits Team Leader. In fact, the position did not even exist at that time. But as I worked through the years, I overcame some of my limitations (like not knowing Lima well; now I have a map in my head) and built my strengths (like my love for reading and history, a great help to answer questions and provide information).
Also, I have seen the faithfulness of God in the ministry and in my life and how He has taken Compassion and me beyond what we expected.
I believe we really have the opportunity to deliver children from poverty. And I still remember many years ago, while I was translating for a video, I asked the final question to the young mother we were interviewing: "What do you want for the future of your child?"
She held the 4-year-old girl, looked around the one poor room she called home, and seemed to think how trapped she was there, with a husband without a steady job, no education and the first of many children to come already in her lap.
Then she stared at me while she answered: "I want her to have a life different than mine, that she can study and progress … I do not want her to have my same life."
So that is why we work. That is why I am here.
If I could tell you one thing it is that you should know how important you are for the children and how sad they feel when they do not get any correspondence.
Money means a lot, but emotional support and care is even more important for reaching our goal, which is what this mother mentioned: to give our children the chance for a different life.
Now let's see what a day can be like for me.
There is one thing I can tell about this work: You will never get bored.
6:30 a.m. Time to wake up. The sky of Lima is usually gray and tricky. It looks like dawn, but it is not true. Time to pray and talk to God.
I usually do my devotion right before I go to bed so I have a quiet spot, but I still always pray before I jump off the bed. Today I added a special prayer for a trip arriving this evening.
7 a.m. A shower and time to ready my clothes for later in the night. I look for my fleece jacket, but I cannot find it. I ask my mom to look for it.
I have a light breakfast, something I am trying to improve. I take my vitamins and get off to the office. I am the lucky one who lives closest; most of my co-workers do not.
Lima is a huge city of 8 million people, and you can travel three hours from end to end, depending on the traffic. This is a something to have in mind to tell the sponsors when they arrive tonight.
Elia, who lives close to the airport, needs at least 45 minutes to get to the office by taxi. And she has to get her two children ready for school before she leaves.
8 a.m. Arrival at the office. Even for the small distance I have to make, the traffic was heavy.
I leave my stuff in my desk and run to office devotions. Besides our time with God together, this is a great opportunity to make announcements as most of the staff is there. We remind them that the group will come to the office the next day and that they are invited to participate in a special devotion time with the sponsors.
We already know that many of the partnership facilitators will be out visiting development centers, but we encourage the ones available to be there.
8:30 a.m. After devotions and an e-mail check, Elia and I talk and see some urgent things.
We find more sponsor visit requests. One sponsor is passing by Piura in the north of Peru and is asking if we can bring her child from Chota to see her in Piura.
I will have to explain that the center is located three hours from Chota town, and then they will have to travel by bus to Chiclayo for another eight hours. Then four more hours to Piura.
Since the child is little and the mother has never traveled before, I need to evaluate the wisdom of making her travel so long, with three stops and transfers to see the sponsor.
This time I say no. Of course, I am sorry, but it is not fair for the child, especially since she is too little to remember much of the visit.
I recommend gift delivery instead. This is a difficult part of my work, to help sponsors understand why we have certain recommendations for certain situations.
We need to educate and be patient if the sponsor does not understand right away. Sometimes it is difficult to let go of an idea. Some sponsors are very nice and really listen; others find it hard.
9 a.m. I receive a phone call from a child development center to let me know that another child I requested for a visit has suddenly traveled with his father to the jungle.
The center was unaware of this as the father did not tell them. I ask them to try to contact the child through an aunt who lives in the area and might have some info.
If the visit does not work out, it would be difficult to tell it to the sponsor as it is the first time he has come to visit.
Last year the sponsor's oldest daughter came and met the child, but the sponsor did not. So I ask the center director to contact me with any news.
I tell Elia about this and she tells me about some other difficulties in her visits.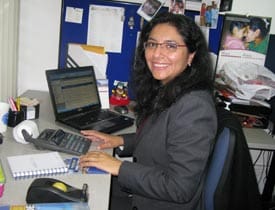 9:30 a.m. Time to send some visit reports. One involves a reimbursement, since the child traveled from another province to Lima.
The sponsor, who is a Peruvian living abroad, has been especially suspicious about the costs. She was wondering why we did not have the child come in the cheapest bus available.
The translator's report states that the sponsor was very nice with the child, but still had a lot of questions about how the family traveled.
The mother and child were thankful as the bus was nice and comfortable and the hostess helped them when the boy felt sick from the altitude. I think it was good for the sponsor to know that since the child was coming from the mountains, he and his mother needed comfort because it was their first trip and they are not used to so many hours in a bus.

9:45 a.m. I get an e-mail from one of our global partner countries about my report of an unexpected visit.
In spite of all procedures and information to the centers, we still have some unexpected visits.
Sometimes, a sponsor decides to jump over the established processes and call us directly, saying: "Hi, I am in Peru on a mission trip and since this was decided last minute, I could not contact Compassion office in my country, but since I am here, I would like to see my child"."
We always do our best effort to make a visit happen and we are often successful, to the point that one co-worker in Colorado Springs said that we have a "magic wand".
Sometimes I wish we really had one. Like the day on which I received a call from a center in a rural area, and a scared secretary told me that a foreign man had appeared at the center saying that he was the sponsor of one child and he wanted to see him; in fact, he said that he would not leave until he saw the child.
The secretary had been in our training and knew that all visits are arranged through our office; that is why she immediately called.
Well, after many phone calls, lots of talk with the sponsor, who did not want to listen much at the beginning, the support of the pastor and the center director, who left a meeting in another town and returned to the church immediately, and the help of the translator the sponsor brought, who was not a Christian but happened to know the pastor and was willing to cooperate, we made this work.
I could have used that magic wand to get to the center right away to talk to the sponsor directly – usually it takes six hours by bus.
9:50 a.m. I look for one photo I want to add to the presentation I will make for the centers. Then I get to see some children at previous visits and smile. They are the reason I am here and why I work so hard to have great trips.
Watching the photos helps me to keep focused on why I do what I do. And somehow it makes the days easier.
I remember that my favorite part is when the child and the sponsor finally meet. So let's make it possible, let's make it happen.
One picture reminds me of the time in which one child did not show up on the fun day and I had to make all sort of things happen to have him and his father come in on an afternoon flight.
God has always been faithful to us and I know He will continue to be. And He loves the children in a special way so He is on our side.
10 a.m. Training with church partners that will get a visit from another trip arriving in a few weeks. We asked six directors to come, but most of them are late.
When I start 30 minutes later, I can't go fast due to the fact that this will be a visit to their centers and they have a lot of questions.
I give them examples of what to do and what not to do and encourage them to ask questions.
They are very excited for the visit and have a lot of enthusiasm and suggestions. Great!
But still we have to provide several guidelines. For example about the food … which I will have to tell you about tomorrow; this blog post has become too long for one day. 🙂