In our partner country of Australia lives the cathedral termite, which is skilled at building settlements well over three meters (approximately 9 feet) tall.
Although these termites are ordinary in size, shape, and strength, when they join together they are capable of constructing a huge, complex hive for their colony.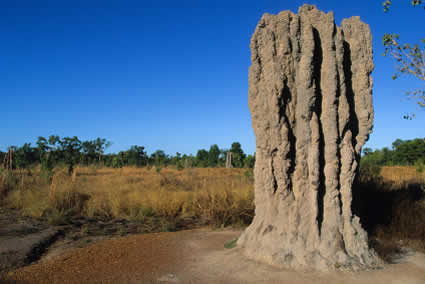 Now here's the really strange thing: The cathedral termites don't have a leader, and the individual termite probably doesn't even know what it is making!
How is this possible? A group has more capacity and complexity than the sum of its parts. This is what scientists call "emergent behavior."
In the world of business, it's known as "synergy" among a team. So what would we, as Christians, call this phenomenon?
We could invent a trendy new word or phrase like "spiritergy" or "emergent miracles," but I connect with our mantra: "one in Spirit."
Living systems such as cathedral termites flirt with the boundary between randomness and order — what a behavioral researcher has termed "the edge of chaos."
At times, our challenges may appear to put us near that edge. When the computer bugs show up or the "termites" of conflict surface, remember that even though Satan continues to attack our kingdom-building work,
"Greater is He who is in you than he who is in the world." — 1 John 4:4, NASB
Remember what God's Spirit has, can, and will accomplish through us. Unlike the termites, we know our Leader and what we're creating. More importantly, our Leader knows us and calls us to one body.
"For even as the body is one and yet has many members, and all the members of the body, though they are many, are one body, so also is Christ." — 1 Corinthians 12:12, NASB
Prayer: Father, please build us into a resilient, caring, productive hive in which Your Spirit dwells. Lord God, help us daily to seek unity for the sake of children and to emerge as "one in Spirit" to conquer poverty in Your precious and powerful name. Amen.
---

ABOUT THE AUTHOR: Grant Dewey is a Production Training Manager, leading a team who trains our Sponsor Donor Services and Distribution Center staff. Grant and his family moved to Colorado from South Korea where he was a teacher and administrator at an international school.
Read all the One in Spirit devotionals.