Walking the streets of Manila to visit a sponsored child and her family, I felt not only far away from home but far away from my idea of home. The small, dirty alleyways and the tiny shack houses made me feel sympathy for the people, and I was humbled to be there.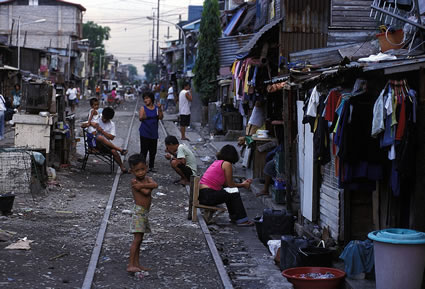 I met a mother who had four children but not four beds. In fact, this family of six had not much at all: a small set of bunk beds in the corner, a little "food preparation" table, a few chairs, and a toilet behind a curtain.
As I sat in this home, I thought about how the small things in my life can be large — even sometimes unattainable — in another person's life. The youngest child, Agatha, was part of the inner-city project where she could receive schooling and get medical check-ups, something, the lovely mother said, they could unfortunately not provide for all their children.
This was the first time I had actually seen the work and programs of Compassion and felt truly connected to the whole of the Compassion ministry.
This was also the first time I had felt completely confident in the purpose and vision of any job I had been associated with. I was able to go beyond my desk and meet the people we serve — the reason we do what we do.
As a part of the wider Compassion family, I believe we are truly working together for a common purpose. With God as the head, we can move as one and together meet the physical and spiritual needs of those who do not get a choice in life.
Only let your manner of life be worthy of the gospel of Christ, so that whether I come and see you or am absent, I may hear of you that you are standing firm in one spirit, with one mind striving side by side for the faith of the gospel. —Philippians 1:27, ESV
Prayer: God, help us to remember our vision and work toward it with zeal!
---

ABOUT THE AUTHOR: Sarah Heanaghan works as a Supporter Relations Coordinator for Tear Fund
New Zealand.
Read all the One in Spirit devotionals.