Saidel is his father's 30th child. His mother, one of his father's five wives, died when Saidel was only 3 years old. His father was abusive and Saidel's early years were very difficult.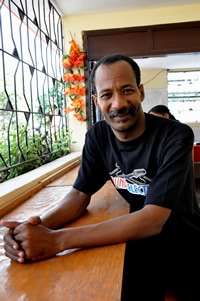 After his mother's death, Saidel was taken in by his older sister, a street vendor named Mireille. They lived in Cavaillon, Cayes, in southern Haiti.
Cavaillon is a remote farming town of 20,000. It is prone to floods and lacks essentials such as schools, health care centers, employment opportunities and vocational training.
Many children in Cavaillon don't go to school because of the meager income their parents generate through farming activities and small businesses. It is a hopeless situation for the town.
Mireille considered Saidel her own son. She was a Christian who believed God would make a way for their family. She sent Saidel to the Baptist church school of Cavaillon where he became part of our child sponsorship program.
"My sister was so happy about the support of Compassion. If it were not for Compassion, she would not have been able to offer me an education."
In 1979 Saidel accepted Jesus as his Savior, and soon he became a member of the Baptist church of Cavaillon. There he learned music theory under the supervision of an American missionary named Ann. As a gifted young boy, he became the maestro of three choirs at the church.
Saidel treasures the letters and gifts sent by his sponsor. Because he was motherless and without a responsible father to care for him, his sponsor meant a lot to him.
"I loved my sponsor so much. He never missed an opportunity to send me letters and gifts. I felt that I was valued and loved. I wish I could meet his family so I could thank that great man for what he invested in my life."
Now 40 years old, Saidel is the only one in his family who attended a university. He studied administration at Quisqueya University, where he also earned diplomas in computerized accounting and music. He is skilled in sewing and photography as well.
"Compassion did not pay for my university, but thanks to the skills I have acquired I could earn money to further my studies."
Saidel served as director of programming for the two most popular evangelical radio stations in Haiti and has used every opportunity to speak a message of hope to this generation.
Among the 40,000 children who have completed our child development program in Haiti, Saidel is a vivid example of success.
"Today, not only I can take care of my family but I am also helping others in need. I think it's one of the things Compassion expects to see in the lives of those who benefit from its programs."
Now married with four children, Saidel and his wife are providing a thorough education for their children. They teach them the Christian virtues and are committed to providing them with the tools they need to build successful careers.
"My dream for my children is that they grow up into genuine Christians who have good relationships with God, with others and the environment."
All of Saidel's children are musically gifted like their father. The oldest son plays the drums, while another child is learning music theory and another is a talented dancer and singer.
When Saidel compares himself with his childhood friends, he says there is a huge difference.
"I recall the time when I used to drink water from the river. I used to walk barefoot and played soccer with my friends, using oranges.

"If it were not for Compassion, I would have been still living in such conditions because my life was the same as that of my friends."
Today, Saidel and his wife live in Carrefour, about 30 minutes from Port-au-Prince. They run a restaurant that mainly serves people who have nothing to eat. Saidel believes the restaurant will serve as an evangelism center where people can eat for free and his team can share with them the good news of salvation through Jesus Christ.
"My biggest dream is to help others to worship God with a true heart, as the Bible says, in spirit and truth."
Saidel also runs a music school called Center for Skills Development in Ministry, where Christian leaders and young people can learn music theory and other related skills to better serve local churches.
"I need to be at the forefront of the change that will be happening in Haiti. The country needs me. Therefore I choose to stay here with my family. I received so much from Compassion. Therefore, today I am committed to giving much to the youth and to the nation."